Cécile Paris
Dec 15 2004 – Jan 29, 2005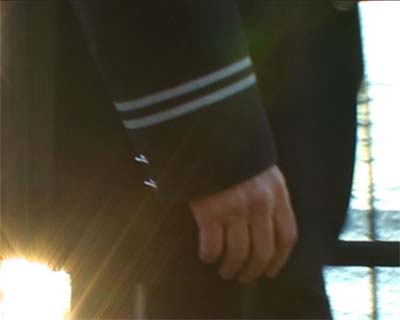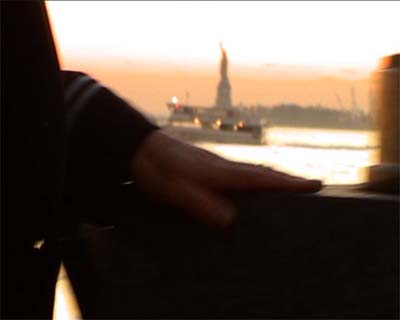 Location One is pleased to present a selection of short videos by artist-in-residence Cécile Paris:
3 videos and 3 songs — ("Bianca", "Etanche", "Rosa") and the recent video "The Doorman", developed by the artist during her four-month stay in New York. Throughout her work, Cécile Paris explores the narrative potential in still and moving images. As they unfold, images detect and deploy the arbitrary and quirky nature of everyday reality. As signs of dysfunction, they remain essentially poetic. A work that leads a discrete battle against ambient normalization.
Each video presents a singular character performing a simple action: a figure on a skateboard filmed from the back in a car, a young girl playing guitar on a traffic circle in the suburbs of Paris, a swimmer, a New York doorman as he progresses through the city at night.
1. "Bianca" (2 minute 30) :: A car follows a skateboarder at night on a road in the French countryside; the viewer's gaze is drawn to the luminous point constituted by the skater's white jacket as it disappears in the night.
soundtrack :: An old Italian song from the '50s emphasizing the "romantic" tone of the work.
2. "Etanche" ("Watertight" – 2 minutes) :: The camera follows the head of a swimmer from the back advancing slowly at the surface of the water; a slow progression in the liquid mass illuminated by the summer sun.
soundtrack :: a melody emerges out of the water..
3. "Rosa" (4 minutes) :: A woman walks along a street in Brooklyn with her small keyboard; alone, she sings, and her voice is beautiful: "Inside of us" addressing herself to all the world, to us, to the city…
4. "Doorman" (5 minutes) :: A New York Doorman in his uniform walks along Battery Park as the sun goes down. Suddenly he lets his vest fall on the ground and disappears in the night.
Cécile Paris's residency is made possible through funding support from AFAA and Ville de Paris.