Abramović Studio at Location One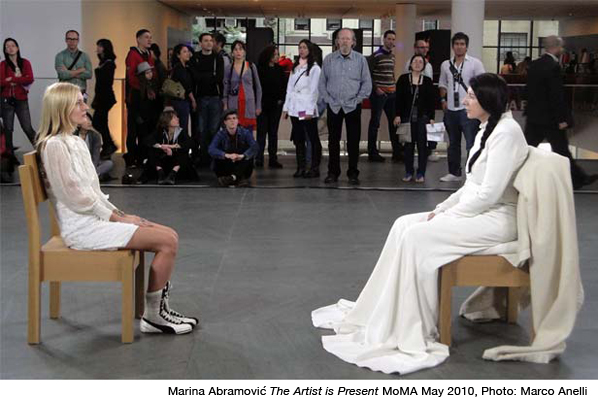 The Marina Abramović Studio is a space within Location One dedicated to the ongoing performance series of long-durational works focusing on open-ended forms of workshops, panels and discussions. It includes resident artists at the Location One as well as a larger community of artists and thinkers interested in the development of performance art as practiced by the pioneer of performance art Marina Abramovic for almost four decades. "The laboratory approach" of the Marina Abramović Studio has the goal of supporting the growth of performance art by promoting the works of emerging artists on an international scale, organizing and collaborating on events using a network of people converging at Location One. It shows the commitment to experimentation across all art forms and points to recent efforts to return performance art to its central position within the gallery system. Starting in the Fall of 2009, the ongoing performance workshops will occasionally be opened to the public in the form of live art exhibitions. In addition, public panels and discussions will promote and seek critical discourses on contemporary performance art practice and related issues. The first event open to the public at Location One presented Abramović's dynamic vision for this specific institution. All programs are curated by Jovana Stokić.
October 27, 2009 Marina Abramović: Performing the Gallery/Performing the Museum The discussion focused on Abramović's investigations of the transformative quality of time in context of a gallery exhibition. The talk included exclusive video material from Abramovic's innovative group exhibition in Manchester Whitworth Art Gallery, held July 3 – 19 2009. For this groundbreaking event, the Whitworth emptied every gallery space in order to create room for this unique work to develop and breathe. The show began with an hour-long performance initiation with Marina Abramović, leading up to a series of extraordinary encounters between artists and audience. Quite unlike anything staged before in a museum or a gallery, it provided a transformative gallery-going experience. more >>
Friday, November 7, 2009
Nikhil Chopra
Nikhil Chopra's work has been included in "Indian Highway" at the Serpentine Gallery (2008–09), "Making Worlds" at the 53rd Venice Biennale (2009), and "Marina Abramovic Presents," the Manchester International Festival (2009). His most recent performane "Yog Raj Chitrakar: Memory Drawing IX" in the New Museum for Contemporary Art was part of Performa 09 Biennial in New York City. He lives and works in Mumbai, India.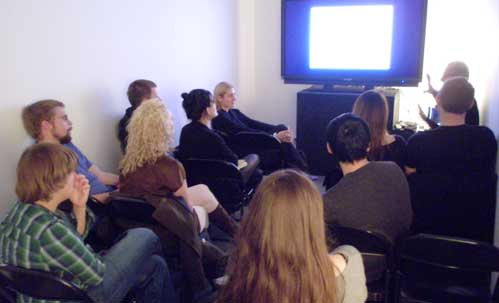 Friday, December 11, 2009
Lotte Lindner & Till Steinbrenner
www.lindner-steinbrenner.com
Born 1971 and 1967, live and work in Hannover, Germany. 1996-2004 Braunschweig School of Arts, Dipl. and MA with Marina Abramovic and John Armleder.

Friday, December 18, 2009
Performance artist Lilibeth Cuenca
lilibethcuenca.com
Lilibeth Cuenca (b.1970 in Manila) lives in Copenhagen Denmark. Cuenca is a graduate from The Royal Danish Academy of Fine Arts Copenhagen, (1996-2002). Cuenca works primarily with video and performances. With consummate style and an almost voracious curiosity, she navigates the inter spaces between different kinds of realities and extremes. Between the perfect staging of music videos and the raw reality of documentaries. Between personal confessionals and political commitment. Taking her own Danish-Filipino background as her point of departure, Cuenca displays a keenly honed sensitivity, almost like that of an anthropologist, to the narratives that exist in and between a place of birth and home country. She gathers, adapts, and universalises these narratives in her both critical and humorous approach to central issues such as identity, culture, religion, gender, and social relations.

More videos from the Abramovic Studio
February 4, 2010 – Lucy Skaer
February 5, 2010 – Nico Vascellari
February 12, 2010 – Jovana Stokic discusses the Abramovic Institute in San Francisco
February 24, 2010 – Ragnar Kjartansson
February 26, 2010 – Maria Jose Arjona
March 11, 2010 – Viola Yesiltac and Eun-Hye Hwang
April 16, 2010 – Paula Orell, Curator from the Plymouth Arts Center
April 21, 2010 – Shoba
May 14, 2010 – Elana Katz
May 28, 2010 – Anna Berndtson
June 3, 2010 – Snezana Golubovic