Kalinowska's multifaceted video and installation practice investigates the observation of human behavior in extreme conditions and states of emotional and psychic tension. Her work makes visible the condensation of energy and the hidden potential revealed in such situations, such as fear or hope, in a contemporary social and political context.
Based between Warsaw and Paris, Agnieszka has exhibited widely in Europe and USA. Recent solo exhibitions include: Galerie Nächst St. Stephan Rosemarie Schwarzwälder, Vienna; Zacheta National Gallery of Art, Warsaw; Arizona state University Art Museum, Tempe; Center of Contemporary Art Ujazdowski Castle, Warsaw. Selected recent group exhibitions include: Helsinki Kunsthall, Helsinki; Kunsthaus Dresden; Parker's Box Gallery, New York.
She is represented by the Gallery Nachst St. Stephan Rosemarie Schwarzwaelder in Vienna and Czarna Gallery in Warsaw.
Kalinowska's residency at Location One is supported by the Trust for Mutual Understanding and Ministry of Culture, Poland – Program Operacyjny "Promocja Polskiej Kultury Za Granica", and the a-i-r Laboratory at the Centre for Contemporary Art, Ujazdowski Castle

just a little bit more,
Ujazdowski Castle, Centre for Contemporary Art, Warsaw, 2002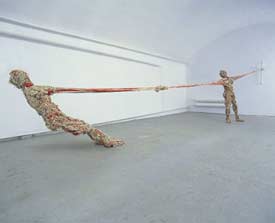 ________________________________________