NIGHT TALK OF THE FORBIDDEN CITY # 2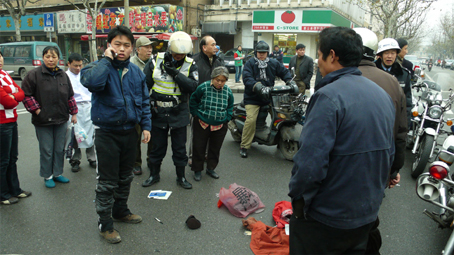 OPENING
29 September 2007, 6 pm
>From 29 September to 9 November 2007
Gallery opening times
3 pm -7 pm every day except Sundays and holidays
The Fabio Paris Art Gallery is proud to present Night Talk of the Forbidden City #2, the first Italian solo exhibition of the collective Alterazioni Video, after the presentation of the video entitled Painting at the 52nd Venice Biennale (in the Italian Pavilion), Think with the Senses – Feel with the Mind. Art in the Present Tense (curated by Robert Storr) .
Night Talk of the Forbidden City # 2 presents the latest developments in the original project of the same name, which was shown for the first time at the DDM Warehouse Gallery in Shanghai in April 2007.
During their time in China, Alterazioni Video explored the topic of language, and the possible outcomes of the agreements between multinational communications companies and the state censorship system.
The various "cells" of Alterazioni Video networked on a local basis using an anonymizer (a tool which guarantees anonymity while surfing), which enabled them to draw up a list of words and phrases prohibited on the main search engines and instant messenger programmes in use in China, with the aim of working out the semantic basis behind these filters.
Alterazioni Video then put these terms back "into circulation", by printing the offending phrases on plastic bags, in English and Chinese, and handing them out free of charge on the streets of Shanghai, with the intention of restoring their full communicative potential. The exhibition includes a number of photos depicting this part of the project.
The encounter between Alterazioni Video and Alighiero Boetti's work on linguistic codes and signs stimulated a more intellectually sophisticated project, "encrypting" its message on a literal and metaphoric level. Based on the idea that censorship has always driven linguistic evolution, Alterazioni Video utilized Boetti's work as a medium, a coding system which the art world was already familiar with, and which could therefore be used to convey this new message.
The result is Timbri, ideograms etched onto printing stones which can be assembled in a grid, forming endlessly reproducing matrixes, and Tappeti, multi-colored combinations of symbols embroidered on canvas.
Boetti's tapestries and drawings often require a key to decode them. Alterazioni Video noticed the similarities between Boetti's modules (like the one which appears in Alternando da uno a cento e viceversa, 1977) and QRCODE tags (matrix codes used in the car industry that can be photographed and decoded via mobile phone), and set about creating a new series of tapestries which convey information about Chinese activists and political refugees. By photographing these tapestries and sending them by smartphone to a specific online decodifier, you can access this information and use it to contact the people in question if need be, and pledge support for their cause. And in this way, by means of a complex process of encoding and decoding, the censored information can be restored to the intangible flow of communications on the net, while art and language return to play a social, as well as aesthetic role.
Established in Milan in 2004, Alterazioni Video is a collective of five artists (Paololuca Barbieri Marchi, Andrea Masu, Alberto Caffarelli, Giacomo Porfiri and Matteo Erenbourg) based in Milan and New York. The collective acts as an international network, geographically dispersed and mobile, and focuses on issues of disinformation and the relations between truth and representation, legality and illegality, freedom and censorship, mingling art with political activism and utilizing all media: from painting to video, installations to internet. Since 2004 Alterazioni Video has taken part in international events like Disobedience (Kunst Behetanien Museum & Play Gallery, Berlin 2005) and Remote Control (MoCA, Shanghai 2007), with solo exhibitions in venues like Location One (New York, 2006) and the Chelsea Art Museum (New York, 2006).

fabioparisartgallery
via Alessandro Monti 13 – 25121 Brescia – tel. 030 3756139 – Skype: fabioparisbs
www.fabioparisartgallery.com