International Artists descend on Dingle/An Daingean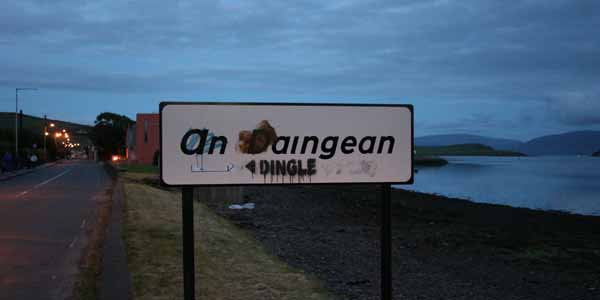 AON ÁIT ANSEO/ANYWHERE HERE
work that can be made anywhere as long as it's here
Dingle/An Daingean, October 29th- November 2nd, 2007
Three invited artists, Sarah Browne, Ben Geoghegan and Katie Holten whose practice reflect 'interlocalism' will gather for this inaugural event in Dingle/An Daingean to discuss, debate and test their practice.
Initiated by artist Andrew Duggan, The Courthouse Studios Project in collaboration with Visual Artists Ireland will facilitate the inaugural visual art gathering in Dingle/An Daingean, Kerry, Ireland.
Interviewee #2. "I think nowadays that all artists are international. We all communicate, because of technology – internationally. But maybe a new situation is called for; and maybe what is needed is to look at how an artist is inter-local, in that the local is what becomes important."
– from The Interview 2006, http://www.location1.org/andrew-duggan/
AON ÁIT ANSEO/ANYWHERE HERE will look at how visual artists transfer methods and practices from place to place (anywhere) yet pay attention to the micro (here).
An added bonus is the involvement of local artists Caoimhghín Ó Fraithile and Darryl O' Curnain. The mix of 'international', 'local' and 'interlocal' artists is sure to resonate and strike a chord with those interested in current artists practice and globalization.
The gathering will be informal, timetables flexible. Images, texts etc will appear on a internet site and a chaired discussion will be available as a podcast.
This is the first installment of AON ÁIT ANSEO/ANYWHERE HERE. It is anticipated that this gathering will become an annual event.
The Courthouse Studio Project is supported by the Kerry County Council.
For further information contact:
Andrew Duggan
The Courthouse Studios Project
Dingle/An Daingean
Kerry
http://www.andrewduggan.org
Visual Artists Ireland
37 North Great George's St
Dublin 1
Ireland
T. +353(0)1 8722296
F. +353(0)1 8722364
W. www.visualartists.ie