November 10-12, 2006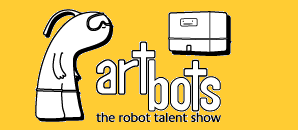 ArtBots: the robot talent show
2006 NYC Regional Show!
For more information see: artbots.org/2006_NYC
Location One is proud to host the regional NYC show as part of the science+art festival 2006 this fall. The show will feature works old and new by eight New York artists who have appeared in previous ArtBots shows.
When:
Thursday-Sunday November 9-12, 2006, Noon-6pm
Opening reception Thursday November 9th, 6-8pm
Where:
Location One, main gallery
26 Greene Street (between Canal and Grand)
New York City!
How much:
$$$FREE$$$
Who:
you!
Participants:
Neil and Iona – Mixed Feelings, Jason Van Anden http://www.smileproject.com
Robozoic, Brett Doar http://www.kingvolcano.com, http://homepage.mac.com/kingvolcano
Retrospectrum, Yoav Bergner and LoVid (Tali Hinkis and Kyle Lapidus) http://www.ignivomous.org/projects/lovid
Ill-Tempered Clangier, Bob Huott & Eric Singer, fabrication by Kazuyo Inoue, Kell Condon, Rocio Barcia, Roberto Osorio, Goenaga, Jesse Fox, Aidan Collins, Gregory Boland, Leif Krinkle, Jonathan Zalben, Ajay Kapur http://www.lemurbots.org
It's In the Air!, Mark Esper http://www.saatchi-gallery.co.uk, http://www.damstuhltrager.com
Wheeze, Ranjit Bhatnagar http://www.moonmilk.com
Wildflower Meadow Glacier, James Powderly http://robotclothes.com
IPO Madness, Jonah Brucker-Cohen http://www.coin-operated.com