Brina Thurston was born in 1977 in New York where she currently resides. A multimedia artist whose work is mainly comprised of video, sculpture and photography and has recently begun exploring an increasingly social practice. Expanding into such mediums as performance, staged social situations, and installation, these new works manipulate an everyday experience with some aspect of alteration or exaggeration. Seeking out the humor, sexuality and absurdity in the everyday while maintaining a critical view of our contemporary social systems, many of these pieces are steeped in institutional critique and become reactions/interventions to the artists immediate surroundings, be it art school, museums, galleries, residencies, porn shops. Past works have required the use of eggplants, an excessive numbers of gallery assistants, phone sex operator calls, high school students, a colonoscopy and dog hair.
Brina Thurston received a BFA in Film and Video Production from NYU, and an MFA in Photographic studies from Bard-ICP. In the past year she completed a residency at the Vermont Studio Center and has exhibited at Rivington Arms, Dean Projects and Gavin Brown @ Passerby. Her video works have also been presented in numerous venues such as the New York Underground Film Festival at Anthology Film Archives, a WWII Bunker in Kiel Germany, a bar in Austin Texas and on the internet.
video stills from "Colon Karaoke" 2008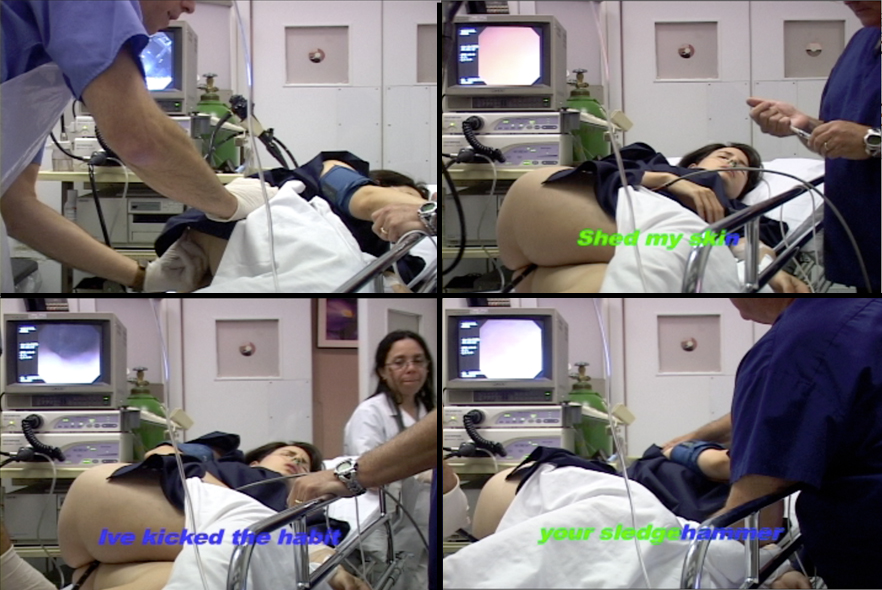 website: http://www.brinathurston.com
Brina's residency at Location One is supported by the Rockefeller Brothers Fund.