Isabella Stewart Gardner Museum
November 9, 2007 – January 13, 2008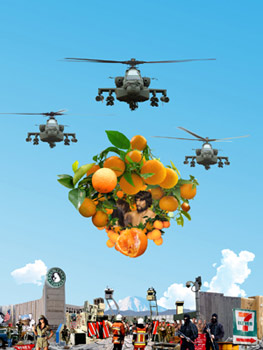 Cliff Evans treats images like found objects, mined from the vast reference library that is today's Internet. His exhibition Empyrean is a digital polyptych with photomontage animation which recalls the form of 15th-century Northern European altar-pieces merged with contemporary advertising narratives.

Conversations with Cliff Evans:
Saturday, November 10, 1:30pm
Pieranna Cavalchini, Curator of Contemporary Art, Gardner Museum.
Thursday, November 15, 7:00pm
Mary Ellen Strom, artist and teacher at the School of the Museum of Fine Arts, Boston.
Thursday, November 29, 6:30pm
Barbara London, Associate Curator, Department of Media at Museum of Modern Art, New York.
Thursday, December 20, 7:00pm
George Fifield, Director, Boston Cyberarts Festival.