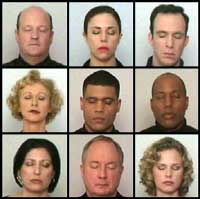 DELIVERY SYSTEM NO. 1: A Theater for Nine Teleprompted Heads
May 3 – June 2 2001
"One of my earliest media memories: the celebrity tic-tac-toe game of Hollywood Squares. At the time, I had no idea who the celebrities were, what the questions were about, or why their answers were so funny, but the display of nine "caged" personae springing to life on cue still provides, to my mind, a kind of model for how electronic media deliver the goods. Meanwhile, real and prosthetic heads multiply like Hydras: click away from one and find two more in its place. War, stocks, sex scandals, murder, fashion and show business all beckon to the Hydra's multitask faces. Delivery System No. 1 offers them a theater, by way of an installation play in three acts: GOOD MORNING, CATASTROPHE, and COURAGE. Synchronized swimming for the face, loops of refigured text, jumping the gap from inside the grid—who's there?
—Gregory Whitehead
Gregory Whitehead is a playwright, audio artist, voice performer, radiomaker. Since 1984, Whitehead has written, performed and produced over eighty audio features, documentaries and earplays for broadcast in the US and abroad, together with an extensive list of credits in new media, theater, film and installations.
mp3 clips of some of his radio and audio works