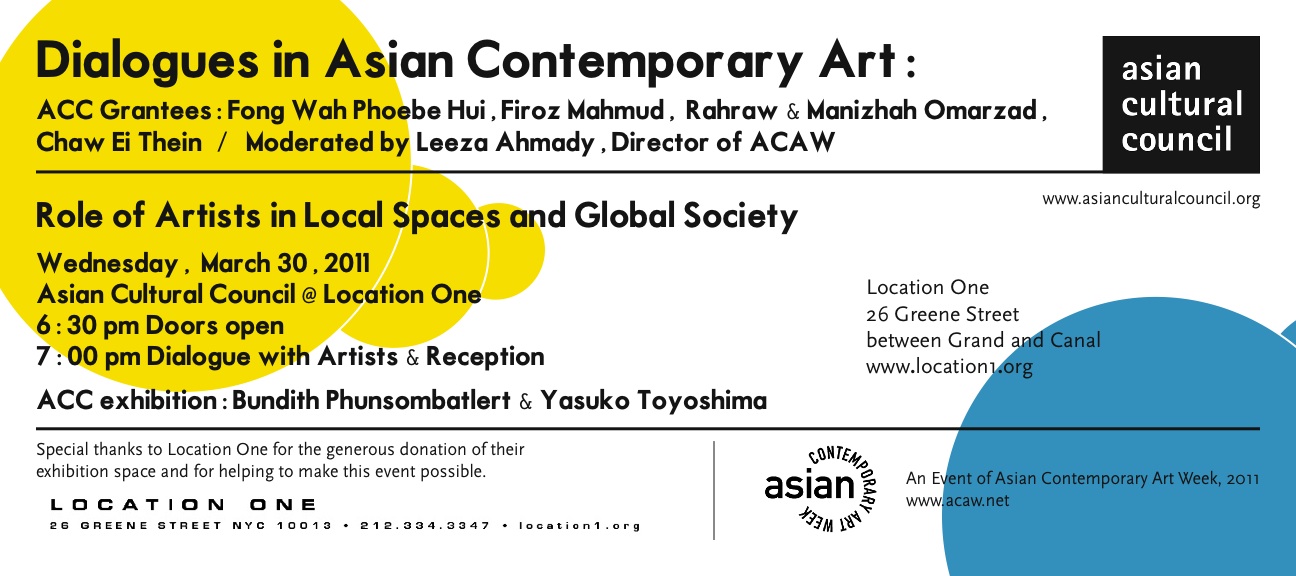 Dialogues in Asian Contemporary Art:
ACC Grantees:Fong Wah Phoebe Hui,Firoz Mahmud, Rahraw & Manizhah Omarzad, Chaw Ei Thein / Moderated by Leeza Ahmady,Director of ACAW Wednesday, March 30,2011
Asian Cultural Council @ Location One
6:30 pm Doors open
7:00 pm Dialogue with Artists & Reception
ACC exhibition:Bundith Phunsombatlert & Yasuko Toyoshima
www.asianculturalcouncil.org
Role of Artists in Local Spaces and Global Society
Join us for a special discussion presented by Asian Cultural Council 2011 grantees/contemporary artists from Afghanistan, Bangladesh, Burma, and Hong Kong. Artists Rahraw and Manizhah Omarzad (Afghanistan); Firoz Mahmud (Bangladesh); Chaw Ei Thein (Burma); and Fong Wah Phoebe Hui (Hong Kong) will explore the challenges and opportunities encountered in their role as artists in local art scenes while becoming increasingly engaged in global art forums. Moderated by Independent curator and ACAW Director Leeza Ahmady.