May 5, 2004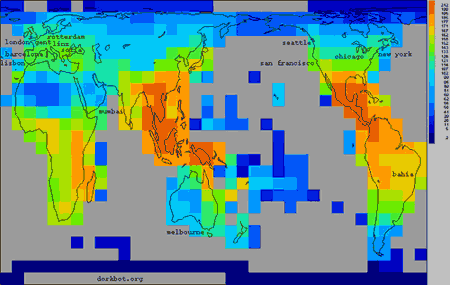 Location One is happy to host this month's dorkbot-nyc meeting—a monthly gathering of artists (sound/image/movement/whatever), designers, engineers, students and other interested parties who are involved in the creation of electronic art (in the broadest sense of the term.)
Hosted by, and usually taking place at the Columbia University Computer Music Center (CMC), dorkbot-nyc meetings are coordinated by Douglas Irving Repetto.
featuring the lovely and talented:
Spot Draves: Electric Sheep
Electric Sheep is a distributed screen-saver that harnesses idle computers into a render farm with the purpose of animating and evolving artificial life-forms. Each clip of animation has a genetic code, and the collective voting of users determines its fitness. In the next version, a P2P network distributes the bandwidth for sharing the video and votes.
http://electricsheep.org
Rich LeGrand: Gameboy Hacks
The Gameboy Advance is famous for its ability to play games, but Nintendo has unwittingly put together a great embedded computer system that's cheap and powerful. When using standard (and free) C compilers and a little extra hardware, you can program the Gameboy to do all sorts of cool stuff such as control motors, read sensors, talk, display graphics or simply run your code. In other words, screw Mario.
http://www.charmedlabs.com
Rob Seward: GTTM Analysis Software
The Generative Theory of Tonal Music (GTTM) was developed in the early 80s by composer Fred Lerdahl and linguist Ray Jackendoff. GTTM "relates the aural surface of a piece to the musical structure unconsciously inferred by the experienced listener" (Lerdahl and Jackendoff, 1983, book jacket). Working closely with Fred Lerdahl and with funding from the Keck Foundation, we have written software that performs a GTTM analysis on pieces written in the style of a Bach chorale. The software uses a unique user interface to display the "unconscious musical structures" that can be found in a piece. It also performs a complete Roman numeral analysis. In the process of automating the analysis, we revised elements of GTTM itself and developed a new key-finding algorithm. We have also created a unique compositional tool. If one wishes to make modifications to a chorale piece, they can immediately see the structural consequences of a revision. Eventually, we will create software that can work with music beyond the Bach chorale style.