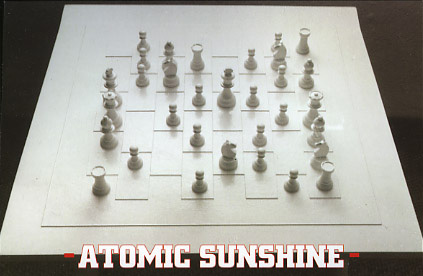 Despite the uniqueness of the Article 9 of the Japanese Constitution, its very existence is surprisingly not well-known in other countries. Through this exhibition, not only will the post-war Japanese art be introduced, but the Article 9 will also be introduced to the audience in New York. The exhibition will investigate the historic significance and importance of how Article 9 was developed and how because of this, there was no blood shed from direct confrontation for 60 years after the war.
Puffin Room (SOHO, New York)
435 Broome St
New York, NY 10013
Saturday, January 12, 2008 – Sunday, February 10, 2008
Opening Reception: Saturday, January 12th, 2008 6-8PM
Exhibiting Artists (Alphabetical Order):
Vanessa Albury
Allora & Calzadilla
Kota Ezawa
Eric van Hove
Yutaka Matsuzawa
Yasumasa Morimura
Nobuyuki Ohura
Yoko Ono
Motoyuki Shitamichi
Yuken Teruya
Yukinori Yanagi
Special Event:
Saturday, Jan 19, 5PM- (Free)
Documentary Film Screening "White Light, Black Rain"
Steven Okazaki on the Atomic Bombing of Hiroshima and Nagasaki
+ Butoh Performance by Vangeline Theater Co.
Friday, Jan 25, 7PM-
Acoustic Live Music Performance
Miho Hatori + Special Guest