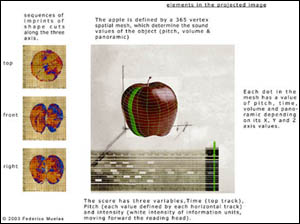 Federico was born in Madrid, Spain where he obtained his undergraduate degree in Fine Arts at University of Castilla. In 1999, he was granted a scholarship for an MFA program in Computer arts at the School of Visual Arts, where he specialized in computer aided installations.He has exhibited throughout Europe, the United States and South America. Recent solo shows include "The Sound of Chocolate Flavour" at Metronom, in Barcelona. In 2003, he was awarded with a prestigious grant from the New York Foundation for the Arts (NYFA) in Computer Arts.
Having a background in both academic fine arts and in new media technology, his work ranges from audiovisual pieces to highly complex installations incorporating sensors and microcontrollers.
Federico Muelas is sponsored by INJUVE (Ministerio de Trabajo y Asuntos Sociales).
Online ::