Gonzalo Puch (Spain)
Location One International Committee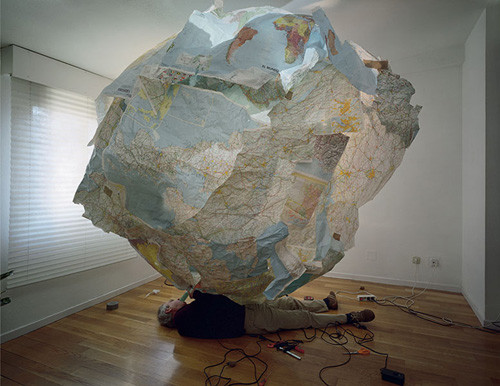 Gonzalo Puch lives in Madrid, teaches at the University in Cuenca, and is a native of Sevilla. He creates situations or "incidents", generally in neutral environments such as classrooms, or his own apartment, which he then records photographically and presents as large, color photographic prints. Although his working methods and environment are hermetic, the work itself addresses and tries to make order of the chaos of the world. His themes are linked to various traditional academic subjects such as math, science, music, biology and environmental studies. The settings are sparse and practical, well lit and benign. Recently he has been working in the landscape more immediately addressing environmental themes. However, the events taking place are inscrutable rituals or quiet procedures which are both serious and comic. They appear to have their own logic in which we can recognize the elements, but not their organization, like words without syntax.
In Globus (also a self -portrait) Puch lies on the floor under a paper globe comprised of a collage of maps which have been recombined with no logical order, surrounded by tools and cords, and attempts to inflate it. In one of his most poetic images, a young man is seated in front of vermillion wall covered in huge cutout numbers. He diligently cuts out additions to this nonsensical equation with great seriousness of intent. For Sale, a nine foot mini eco environment constructed by Puch in his bedroom, links plants, animals and water systems in a world where all real estate is for sale.
Puch has been exhibiting in Spain since 1985, and in 2004 a major retrospective was held at the Centro Andaluz de Arte Contemporaneo in Sevilla, and in 2002 at the Fundacion Antonio Perez in Cuenca. His work is included in numerous collections in Spain including the Centro Nacional Reina Sofia, and the Arco and Coca-Cola Foundations in Madrid. His first solo exhibition in the United States was held at Julie Saul Gallery in 2005 and he subsequently entered the collection of the Blanton Museum at the University of Texas in Austin.
Gonzalo Puch's residency is supported by the Location One International Committee.