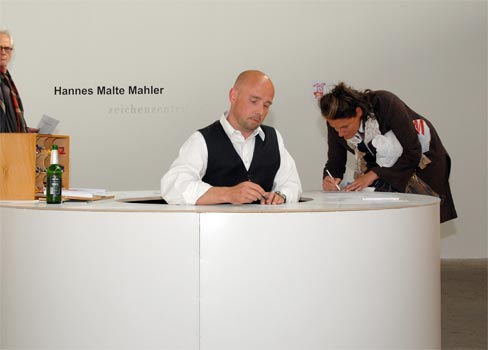 ABRAMOVIC STUDIO presents:
A Special performance  by Hannes Mahlte MahlerMay 22 Saturday, 4 – 8 pm
curated by Jovana Stokic
Zeichenzentrifuge | Drawing Centrifuge
The ABRAMOVIC STUDIO at Location one presentsHannes Malte Mahler with the drawing performance: Drawing Centrifuge.The Mahler draws according to your wishes. You can keep the drawing.
Instructions:
a)  Write your wish on the drawing paper.  Add your name and address.
b)      Mahler draws.
c)      Receive your drawing and glue it on the wall (Attended by the cheerleaders).
d)      The result drawings fill the space.
e)      One day later you can collect your drawing.
Art is the only serious thing in the world.And the artist is the only person who is never serious.–Oscar Wilde
For the artist, the life drawing idea is around for about 10 years, starting from a part within a broader installation of a studio with him performing in it as an artist. Since then it has undergone several changes and now the centrifuge idea is the one that  he is interested in – meaning a more or less simple set-up in which the artist sits and the audience watches: one orders 'something' and I draw it – meaning people witness the actual process of creation. Source and inspiration is the artist's personal practice as he usually draws wherever he is and therefore it was a somewhat logical step to draw on demand. As he also creates 'real' paintings / drawings / photography, this special set up just plays with the role of the 'Mahler' ( 'painter' in English)  — it does not counteract but reinforce and vitalize this figure.
Hannes Malte Mahler is simultaneously a draughtsman and a painter, a photographer and a performance artist. His diverse artistic activities unite the common resolve to examine ideas and attitudes as well as the status quo of the world and reality in terms of its validity and load-bearing capacity. His tools on this path are jokes, satire, irony, and the energy to develop new points of view and meanings with their help. The provocative features of his art are in the tradition of the épater le bourgeois where the artist assumes the role of the enfant terrible and, like the Dada artists of the early twentieth century as well as the Fluxus artists fifty years later, becomes a propagandist for the reassessment of much-loved values and non-values.  The quality of his performances in which he fulfills the public's all and sundry painting wishes ("Dear Painter, Paint Me…") has a deeper meaning because in the process he questions the absurd modern notion of the artist which says that only the artist who commissions himself can be a "pure and good" artist.
Although he commissioned himself to produce the exhibited drawings, they nevertheless owe nothing to a purposeless exercise in art. They were neither made in art's ivory tower, nor do they want to be affectless. (M. Stoeber)
About the artist: Hannes Malte Mahler, born 1968 lives and works in Hannover, Germany. He is a graduate of the Braunschweig school of arts and a postgraduate of Marina Abramovic. Though performance is the key issue in Mahler's work, all kinds of media can be found if they suit the intended purpose. (like installation, photography, painting and son on and so forth) For further information and an inspirational stroll through the mahler's worlds you are cordially invited to visit http://www.theMahler.com