Hiraku Suzuki (Japan)
Asian Cultural Council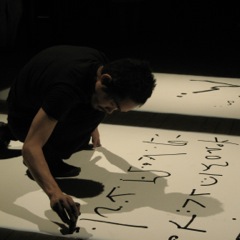 Born in Miyagi, Japan, 1978. Lives and works in Tokyo.
Hiraku Suzuki obtained an MFA from Tokyo National University of Fine Arts and Music. Focusing on ideas of memory and excavation, the work of Hiraku Suzuki centers around an expanded notion of drawing; encompassing works on paper and panels, installation, murals, frottages as well as live drawing performance. Much of his work hinges on the vast library of signs and glyphs he has developed by focusing on the shapes, forms, rhythms and materials of his immediate environment, which can be understood as the base units of the ever-changing hidden language of the city.
His recent solo exhibitions include at WIMBLEDON space, London (2011), Galerie du JourAgnes b., Paris (2010) and Tokyo Wonder Site Shibuya, Tokyo (2008). Group exhibitionsinclude Roppongi Crossing, Mori Art Museum, Tokyo (2010); 100 stories of love, The21st Century Museum of Contemporary Art, Kanazawa (2009); Between site and space, ARTSPACE, Sydney (2009); Redbull House of Art, Hotel Central, Sao Paulo (2009)and Vision of Contemporary Art, The Ueno Royal Museum, Tokyo (2009). His early works are held in thecollection of The 21st Century Museum of Contemporary Art, Kanazawa. Publications include GENGA, published by Kawade Shobo Shinsha/Agnes b., and Looking For Minerals, published by BEAMS.http://www.wordpublic.com/hiraku
Mr. Suzuki's residency is made possible by The Asian Cultural Council