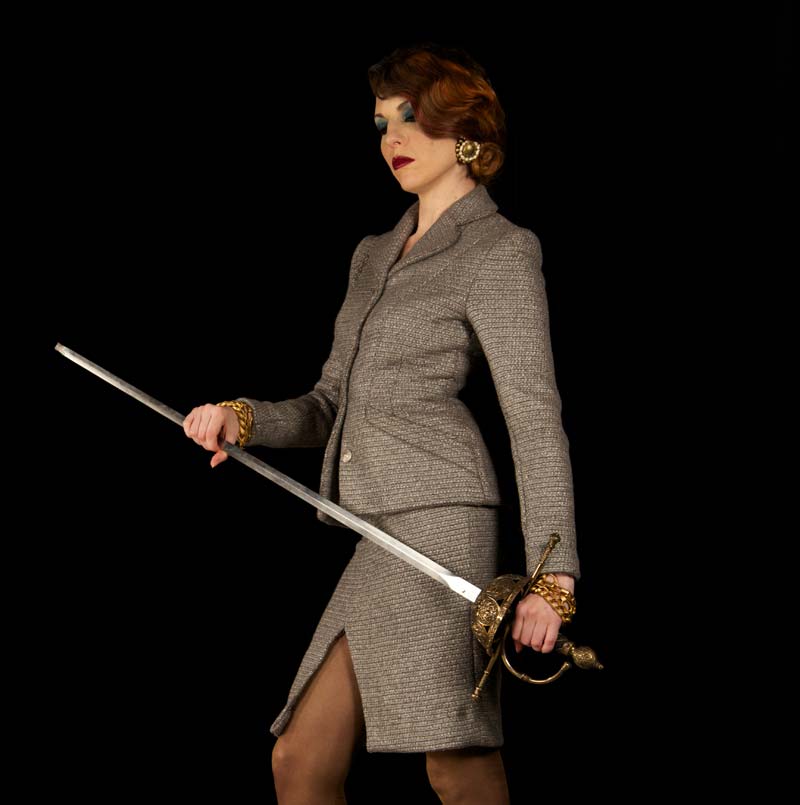 Location One and Quinndustry present
Icons And Relics
Monday, February 4, 2013
Two shows: 8pm and 8:30pm
Location One and Quinndustry present Icons And Relics, a prelude to Fashion Week in the form of a theatrical fashion adventure spotlighting the 2013 Fall/Winter collection of renowned designer David Quinn. Here fashion, theater, and dance are intertwined by Quinn's nimble wit to form a multidisciplinary work of PerformanceFashionArt.
Mysterious women in smoking jackets gaze at you languidly while dancers create tableaux vivants in an opulent Edwardian parlor. Inspired by knights' armor, byzantine icons, and the gender ambiguities of the La Garçonne style of the 1920s, this dreamscape is carried along by choreography influenced by processionals and pagan festival dances. Quinn will bring together models and some of downtown New York's most talented dancers and brightest stars of burlesque and performance art to bring this vision to life.
Icons and Relics is directed by David Quinn, with choreography by Luke Miller and Ede Thurrell, dramaturgy by Kate Valentine, sound design by Shaun Hettinger (Memoryymusic.com), and lighting design by Keith Truax.
Two shows: Monday, February 4 at 8pm and 8:30pm. Admission is free. Seating is limited.
Location One – 26 Greene Street (between Grand and Canal Streets).
More information at: location1.org.
About David Quinn: David Quinn is equally adept at designing for dance, theater, circus, TV, film, and the red carpet. His work in costuming and fashion has received critical acclaim in numerous publications across the country. In New York, he has been featured in the New York Times Style section several times (twice photographed by the legendary Bill Cunningham), The Village Voice, WWD, Dance View Times, Dance Magazine, Ballet Review, Bust, Next, New York Magazine, Soap Opera in Depth, and Time Out New York, among others.
Quinn has also designed for numerous dance companies in New York and across the country. He designed the costumes for the Martha Graham Company's new work Chasing, which premiered at Lincoln Center in 2011, and has also designed for the Merce Cunningham Dance Company, Mark Morris Dance Group, Doug Varone and Dancers, Glen Rumsey, Stanley Love Performance Group, as well as burlesque performers Kate Valentine, Dirty Martini, Julie Atlas Muz, and the World Famous Bob, among many other artists.
Quinn designed the circus Desir in conjunction with the jeweler Boucheron on its 150th anniversary. His designs have appeared on television shows such as The Young and the Restless and the Daytime Emmys. Quinn is featured as himself in the documentaries Dirty Martini and the New Burlesque and Haute Child in the City. He designed the costumes for the feature-length film, Celluloid #1, and designed performance costumes featured in the movie Tournée, the directorial debut from Mathieu Amalric.
Quinn's made-to-order gowns have been on red carpets at the Tony Awards, the Cesar Awards, the Emmy Awards, and the Cannes Film Festival, as well as countless opening nights and premieres. From his studio, Quinn has built costumes for many of Broadway's biggest designers for many of its biggest shows. His work has been in Grey Gardens, Spring Awakening, 16 Wounded, Beauty and the Beast, Young Frankenstein, Billy Elliot, The Wedding Singer, Frost/Nixon, and Cirque du Soleil, among many others.
Quinn also conceives, costumes, and directs performance art happenings combining fashion, dance, and music. ArtForum called Quinn's Scenes From a Ladies Room "a stunning spectacle." Along with his many varied projects, Quinn is currently working on translating his made-to-order gowns and clothing into more accessible ready-to-wear. Quinn is also very honored to be the resident costume designer for the LaGuardia Arts High School's drama department.
Media contact: Janet Stapleton – 212-633-0016 / jstapleton@att.net
Digital images are available on request.