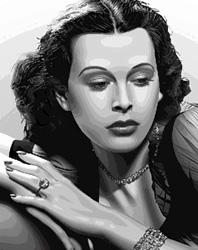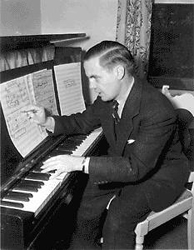 IN HOT PURSUIT at Location One
New Theatre. Innovative Directors.
Curated by Jocelyn Ruggiero
December 6: Frequency Hopping
January 24 + 25 Sonnets for an Old Century
March 7-9 Philoctetes
FREQUENCY HOPPING
a work-in-progress written & directed by Elyse Singer
with Isabel Keating
Music/Radio Consultant: Joshua Fried
Costume Designer: Angela Kahler
Dramaturg: Erika Rundle
"Films have a certain place in a certain time period. Technology is forever." –Hedy Lamarr
In 1940, Hedy Lamarr, the "most beautiful woman in the world" and composer George Antheil, the "bad boy of music" met at a Hollywood dinner party. Two years later, they received a patent for an invention now recognized as the model for wireless communication. Based on the true story of the film icon and the avant-garde composer's extraordinary collaboration and friendship, Frequency Hopping is a darkly comic play about connecting with another person operating at the same frequency.
ELYSE SINGER (Writer/director)
Elyse Singer's work includes Love in the Void (alt.fan.c-love), Private Property (Edinburgh Festival), Care-less: Eva Tanguay (Dixon Place) and Frequency Hopping, which was commissioned by the EST/Sloan Project and featured in the Drama League's 2001 New Directors/New Works Program. She directed the Hourglass Group's Off-Broadway production of the first NYC revival of Mae West's play SEX and Deborah Swisher's Hundreds of Sisters & One BIG Brother at the Clurman, following runs at HERE, HBO Workspace in LA, and Brava in San Francisco. In New York, she has worked extensively downtown, directing and producing the premieres of new plays by writers such as Ruth Margraff, Neena Beber, Naomi Iizuka, Catherine Zimdahl and Aaron Mack Schloff. A Yale graduate, Elyse is a Usual Suspect and Convener at New York Theatre Workshop, an alumna of Lincoln Center Theater Directors Lab and Artistic Director of the Hourglass Group. She will direct the premiere of Ruth Margraff's newest play, Red Frogs, at P.S. 122 in February 2002.
ISABEL KEATING (Hedy Lamarr)
Isabel Keating most recently appeared in Donald Margulies's Dinner with Friends at the Old Globe Theatre, directed by Leonard Foglia. She is the recipient of the 2000 Helen Hayes Award for Best Actress for her work in Tom Stoppard's Indian Ink (dir. Joy Zinoman) at the Studio Theatre. [In the recent workshop of Judy's Scary Little Christmas at the ArcLight Theatre, also directed by Mr. Foglia, she played Judy Garland.] Off-Broadway: Atlantic Theatre Co.; New York Shakespeare Festivval (New Works Now); Watermark Theatre, etc. Regional: Hartford Stage; McCarter Theatre; O'Neill Theatre Center (National Playwrights Conference company member); Actors Theatre of Louisville (Humana Festival); Denver Center Theatre, etc. Films: Magnetism; Sunnyside.
JOSHUA FRIED (Sound/Radio Consultant)
Joshua Fried emerged from New York's downtown experimental music and East Village performance scenes of the '80s. The recipient of numerous fellowships and awards, Fried's work has been presented at Lincoln Center, Bang On a Can, The Kitchen, etc. in NYC as well as in LA, Chicago, Berlin, Paris, Tokyo, Amsterdam, Warsaw, Prague, Copenhagen and elsewhere. His collaboration with choreographer Douglas Dunn, Spell for Opening the Mouth of N (featuring eight singer-actors wearing wireless radio headphones, and a dance company of ten), premiered in a sold-out run at The Kitchen, New York, and was one of the highlights of the 1997 Lincoln Center Out-of-Doors Festival. Fried's recording "Jimmy Because" (with guest guitarist Fred Frith) was released by Atlantic Records; he has been re-mix producer for They Might Be Giants, Chaka Khan and Ofra Haza.
ANGELA KAHLER (Costume Designer)
Angela Kahler has worked with Elyse previously on Hourglass's workshop of The Triple Happiness by Brooke Berman, and the American Living Room productions of The Table Dance by Mark Russell and Family Running for Mr. Whippy by Catherine Zimdahl. When not working downtown, Angie sells her soul to commercial venues such as Broadway, Opera and Film. Recent projects include: The Lion King, Annie Get Your Gun, 42nd Street and, currently, Mamma Mia.
ERIKA RUNDLE (Dramaturg)
Erika Rundle was most recently seen this summer as Ellida in Waxfactory's Lady from the Sea at BAX. She also starred in So to Speak, which appeared at the New York Experimental Video Festival at Lincoln Center. Currently she is the dramaturg for Heiner Müller's Quartet at Waxfactory, and a dramatic adaptation of Studs Terkel's American Dreams: Lost and Found at The Acting Company. She co-directed multi-media productions of Lorca's The Love of Don Perlimplin and Belisa in the Garden at the Yale Cabaret and Megan Terry's Approaching Simone at Brown's Production Workshop. She teaches in the theater, film, and comparative literature departments at Yale College and is the Associate Editor of Theater magazine.
HOURGLASS GROUP develops and produces provocative plays by writers who experiment with heightened dramatic language and innovative theatrical forms. Founded in 1998 by Elyse Singer, Carolyn Baeumler and Nina Hellman, the company is especially interested in presenting new work that put women's words and imagination center-stage. In 1999, Hourglass produced the first NYC revival of Mae West's 1926 play SEX off-Broadway at the Gershwin Hotel and the company's production of Deborah Swisher's Hundreds of Sisters & One BIG Brother moved Off-Broadway following a run at San Francisco's Brava Theater. Committed to new play development, Hourglass hosts an annual summer retreat at Choate Rosemary Hall in Wallingford, Connecticut, where theatre artists work on new scripts as well as teach performance workshops to high school students in the Summer Arts Conservatory. Other programs include a reading series of adventurous new plays at the Gershwin Hotel. Hourglass will produce Ruth Margraff's new play Red Frogs at PS122 in February 2002.

Frequency Hopping was originally commissioned and developed by the EST/Sloan Project. The play received funding and developmental support in 2001 from the Drama League Directors Project's New Directors/New Works program.