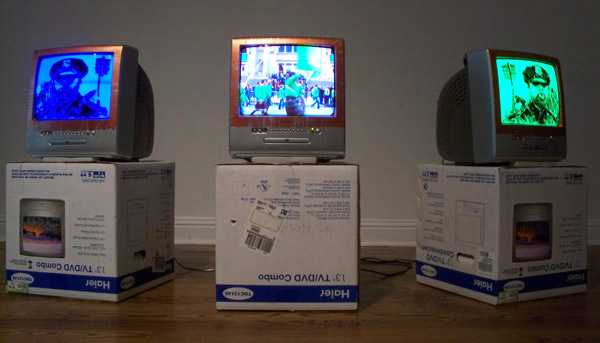 St. Patrick's Day NY 2006-07
Nine International Artists Exhibit
June 2nd – July 28th, 2007
Jeanette Doyle earned critical acclaim with her first post-graduate
exhibition, winning the Overall Prize at ev+a '95, curated by Maria de
Corral. Since then, her practice has concerned itself, often playfully, with
the interrogation of a number of different disciplines and stances. Her work
has been exhibited widely both in Ireland and abroad; including Ecole
Nationale Supérieure des Beaux-Arts, Paris; Museum of Modern Art, Croatia;
Brisbane Institute of Modern Art; Australian Centre for Contemporary Art; the
ICA and Studio Voltaire, London; Dublin City Gallery, the Hugh Lane and the
Crawford Municipal Art Gallery, Cork. Doyle has also held solo exhibitions at
the Nordic Institute for Contemporary Art, Helsinki; Limerick City Gallery of
Art; City Arts Centre, Dublin; Fenderesky Gallery, Belfast and Temple Bar
Gallery, Dublin. In 2003 and 2005 she showed at Eurojet Futures at the Royal
Hibernian Academy, Dublin.
In 2006, Jeanette received a First Class MA in Visual Arts Practices at the
Dún Laoghaire Institute of Art, Design and Technology (IADT). The work
produced during this period was shown at an exhibition entitled 'and then I
place my face against the glass' at Broadstone Gallery, Dublin; with a
concurrent show 'Portrayals', at AXIS, Ballymun, a Breaking Ground 2
commission. In the past years she has been concentrating her practice on the
painted image and its relationship to a variety of both lens based and
digital technologies.
Upcoming shows include "SURGE", 798 Art Festival, Beijing – which will then
travel to Duolong Museum of Modern Art, Shanghai and Xiangning Art Museum in
Shenzhen (Hong Kong), curated by The Artist's Network, New York. Doyle will
also exhibit at 'EDGE' Kochi Museum, Japan later this year.
Jeanette Doyle is the recipient of 2006/2007 Irish Fellowship at Location
One. This is supported by the Arts Council of Ireland and The Irish American
Cultural Institute.
Further information about Jeanette Doyle's practice is available at: www.jeanettedoyle.com