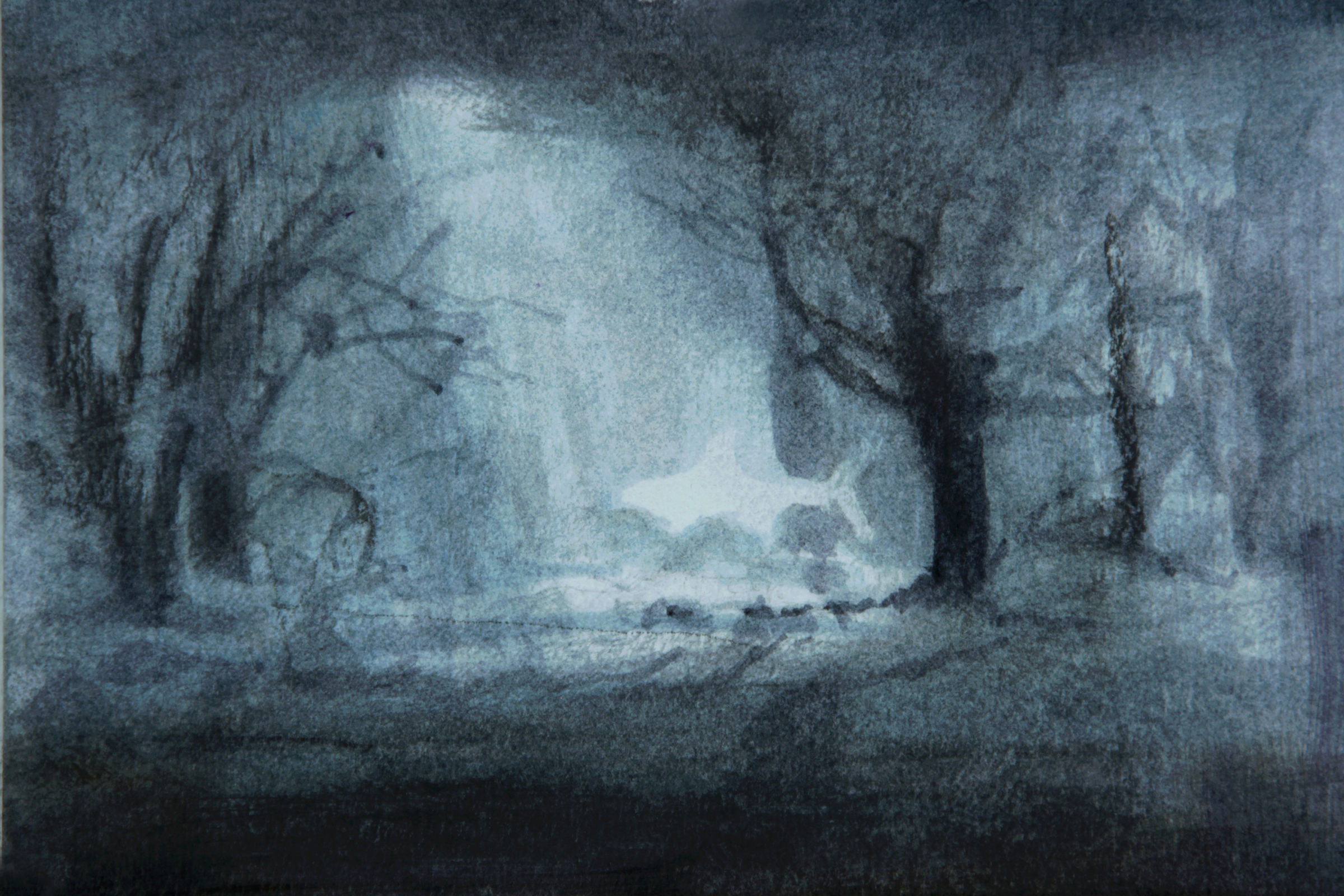 Like A Shark in The Grass
Solo Exhibition by John O'Connell
Curated by Claudia Calirman
Opening Reception: Wednesday, 13 April 2011 6-8PM
Exhibition Dates: 14 April – 27 May 2011
Location One is proud to present: Like a Shark in the Grass, John O'Connell's first solo exhibition in New York.
John O'Connell, a multimedia artist from Dublin, Ireland, works with sculpture, photography, drawing, and film animation. For Location One, he creates an intimate and dreamy environment, built from a myriad of interrelated elements borrowed from his make-believe universe. The gallery space is transformed with floor-to-ceiling cardboard tubes, a large hand-painted mural, a series of drawings, and a huge papier-mâché structure, creating the sense of a forest that the viewer is invited to explore. This imaginary landscape—in which bizarre and unfamiliar narratives seem to unfold before the viewer's eyes—is loosely inspired by an earlier drawing by O'Connell, Like a Shark in the Grass (2009), which depicts a ghostly white shark uncannily drifting inside a forest.
O'Connell is best known for his film animations, many of which likewise depart from his drawings, paintings, and miniature set designs. He also composes and plays piano for the animations' melodic and soothing soundtracks. Straddling the line between real and fictional, process-based and result-oriented, these animated works seem to be involved in their own imaginary journey, oblivious to the exterior world. They ultimately belong to the artist's poetic, whimsical, and lyrical universe.
About the Artist:
John O'Connell holds an MA from the Royal College of Art, London, and a BA from the National College of Art, Dublin. He has undertaken numerous residencies and has exhibited widely both nationally and internationally. Recent solo shows include New Work at The Dock, Ireland (2011); The Visitor, at the Riverbank Art Centre, Ireland (2010); Big Pink at the Goethe Institute, Dublin (2009); Nothing Matters When Your Dancing, at Stiftung Starke, Berlin (2009); and The Garden Project at Wicklow County Hall, Ireland (2007). Recent group shows include By a Route Obscure and Lonely at the Triskel Art Centre, Cork (2011); Contemporary Sculpture Show at the F. E. McWilliam Gallery, Ireland (2010), Re:Public at Temple Bar Gallery, Dublin (2010); Clear Skies Above at SIM House, Reykjavik (2010); Futures 09 at the Royal Hibernian Academy, Dublin (2009); and The Heart Is a Lonely Hunter at West Germany Project Space, Berlin (2009).
Location One is extremely grateful to John O'Connell's residency sponsors: The Arts Council / An Chomhairle Ealaíon, and The Irish American Cultural Institute, and to The New York State Council on the Arts, The New York City Department of Cultural Affairs, and media sponsor OneArtWorld.com.