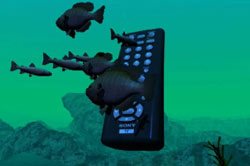 born in Braga, Portugal, July 5th, 1970
lives and works in Lisbon, Portugal
In 1995, Miguel Soares graduated with a degree in Industrial Design from the Faculdade de Belas Artes da Universidade, Lisbon. Prior to this, he studied photography at Ar.Co (Lisbon) and attended the Atelier Livre de Desenho at the Galeria Monumental (Lisbon).
Although Soares has been experimenting in several mediums, his more recent installations tend to combine video animation, DVD projection, and stereo sounds of his own composition. As an example, in 2003, he worked in conjunction with the San Francisco Bay Area group, "Negativland," known for its struggle against restrictive copyright laws in the 90's, and created "Time Zones" — where he investigates the use of media as a vehicle for psychological warfare, and of computers to control the "imperfections" of mankind.
New York City and the United States have always been a focus of interest to this artist.
Miguel's residency at Location One is supported by the Calouste Gulbenkian Foundation and the Luso-American Development Foundation.
Recent exhibitions include: Galeria Monumental, Lisbon; ESTGAD, Caldas da Rainha, Portugal; Centre Georges Pompidou, Paris. In January 2004, the Hierba Buena Center for the Arts, San Francisco will present an exhibition that focuses on the theme of computer games, and issues of Internet culture and intellectual property rights.
Online ::

http://migso.net/
address:Rua Conde de Almoster 22. 2E 1500-194 Lisbon Portugal
mobile: +351 96 533 0839
email: migsomail@yahoo.com