Miler Lagos (Colombia)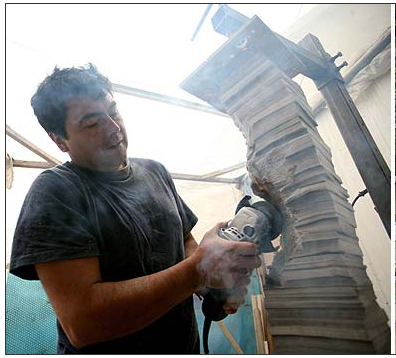 Born in Bogotá, Colombia, 1973 where he currently lives and Works. Studied Fine Arts at the National University of Colombia (Universidad Nacional de Colombia). Has exhibit nationally and internationally since 2002.
Solo Exhibitions:
Supreme Levels (Niveles Soberanos) , Valenzuela y Klenner Gallery, Bogotá (2002); The terms of the game (Los Términos del Juego) , French Alliance, Bogotá (2006); Foundation (Cimiento) ,University of Salamanca`s Cultural Centre, Bogotá (2007); Magic Seeds (Semillas Mágicas) , Enrique Guerrero Gallery, Mexico (2008); Paper can take anything (El papel aguanta todo) , Nueveochenta Gallery, Bogotá (2008); Attraction , Faria-Fabregas Gallery, Caracas, Venezuela (2009).
Group Exhibitions:
Philagrafika , Philadelphia (2010), Valparaíso:Interventions , Valparaíso Chile (2010), 2nd Trienale Poligráfic of San Juan , Puerto Rico (2009); Everything has a name, or the potencial to be named , Gasworks, London (2009), Other Floras , Nara Roesler Gallery, Sao Paulo (2008); Five Contemporary Artists in the Encounter House , (Encouenter in Medellín,Colombia MDE07, (2007); The intricate journey , NGBK, Berlín, (2007); IX Bienal of Bogotá (2006): 40th National Salon of Artists, Bogotá, (2006); XI Regionale Salón de Artistas , Tunja, Colombia (2005); Relacional, Santa Fe Gallery, Bogotá (2005). First Price, VI Bienale of Venecia in Bogotá (2003), Kennedy City Project, Bogotá (2003), Memory and reality (Colective project of artistic creation , National University of Colombia), Bogotá (200-)
At present many of Miler Lagos`s works are a part of important art collections in Colombia , such as : Republic Bank of Colombia , (Banco de La Republica), Museum of Antioquia (Museo de Antioquia),Gilberto Alzate Avendaño Foundation (Fundación Gilberto Alzate Avendaño) and worldwide art collections such as : Rubell Family Collection , Ella Fontanals Cisneros Foundation and National Collection of The Puertorrican Culture Institute (Colección Nacional Del Instituto De Cultura Puertorriqueña).