December 2, 2008 to February 14, 2009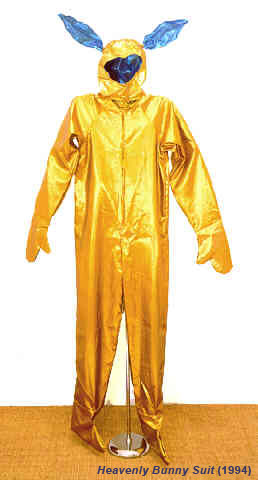 Nayland Blake: Behavior, a 25-year survey of the renowned artist's work, will feature some thirty pieces from every aspect of Blake's career as a painter, sculptor, illustrator, performer, and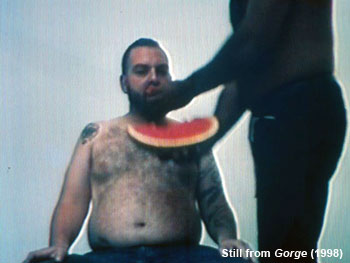 installation artist. They include the iconic Magic (1991), Heavenly Bunny Suit (1994), a restraint piece, Jim (2000), as well as a generous selection of works never before exhibited in NYC. Nayland Blake: Behavior will be accompanied by a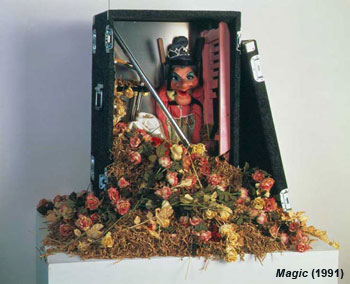 catalogue, as well as by a series of artist-curated performance nights, one of which will include a re-staging of Blake's "Gorge" (1998).

artist bio
Nayland Blake; artist, writer, educator and curator, was born in 1960 in New York City, where he currently lives and works. Over the past twenty four years he has exhibited widely throughout the world. He has had one-person exhibitions at the San Francisco Museum of Modern Art; University Art Museum, Berkeley; Contemporary Arts Museum, Houston, and the Tang Teaching Museum at Skidmore College. His works are in the permanent collections of The Museum of Modern Art, The Whitney Museum, Los Angeles Museum of Contemporary Art, the Brooklyn Museum, The Studio Museum in Harlem, and many others. He is the author of numerous catalog essays as well as articles and interviews appearing in such publications as Artforum, Out, Interview, and Outlook. In 1995 he was the co-curator, with Larry Rinder, of In A Different Light, the first museum exhibition to examine the impact of Lesbian, Gay and Queer artists on contemporary art. He is currently the founding chair of the ICP/Bard Masters Program in Advanced Photographic Studies at the International Center for Photography in New York. Blake is represented by Fred in London, Gallery Paule Anglim in San Francisco, and Matthew Marks Gallery in New York.

curator's bio
Maura Reilly is an independent curator and writer. From 2003–2008, she worked as the founding curator of the Elizabeth A. Sackler Center for Feminist Art at the Brooklyn Museum, during which time she organized several exhibitions, including the permanent re-installation of The Dinner Party by Judy Chicago, the critically acclaimed Global Feminisms, co-curated with Linda Nochlin, and Ghada Amer: Love Has No End (for which a major monograph by Reilly is forthcoming). Prior to joining Brooklyn Museum, she worked as a free-lance art critic, most regularly writing for Art in America and Art Journal, while also organizing a number of exhibitions as an independent curator, most notably Citizen Queer at the Shedhalle in Zürich, Switzerland, Neoqueer at the Center on Contemporary Art, Seattle. Most recently, Reilly co-curated La Mirada Iracunda (The Furious Gaze) at the Centro Cultural Montehermoso de Vitoria-Gasteiz, Spain. She has published and lectured widely on post-war art and has taught at the Institute of Fine Arts at New York University, Tufts University in Medford, MA, and at Pratt Institute in Brooklyn. Dr. Reilly received her M. A. and Ph. D. from the Institute of Fine Arts at New York University. Her next curatorial project is an exhibition showcasing the early paintings of Carolee Schneemann at PPOW Gallery, New York, in 2009.