A Series of Performance Reactions to Nayland Blake's "BEHAVIOR"
Wednesday, December 17, 2008 8PM Free Admission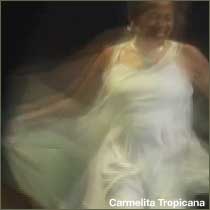 Performers: Rob Fitterman, Robert Gluck, Sarah Schulman, Carmelita Tropicana and Dominic Vine.
Curated by Nayland Blake
Please join us next Wednesday, December 17 for the first night in a series of performances responding and reacting to BEHAVIOR, the current exhibition by Nayland Blake.
During the course of the exhibition, Blake will also curate two more evenings of performances, January 9 and February 7. Each night he will invite five artists,
musicians, and authors to react to his work. The second Misbehavior, on January 9, will
be no less spectacular, showcasing additional performer-reactors, as well as a re-staging of
Blake's notorious performance, "Gorge," a one-hour performance in which the artist sits shirtless
in front of a table full of food from which the audience is encouraged to feed him. The final
Misbehavior, promises to be a grand finale, full of surprises. Be prepared to see interpretations of
Blake's work by artists such as Zeena Parkins, Carolee Schneemann, and Lynn Tillman.

Nayland Blake - Misbehavior I - Carmelita Tropicana

Nayland Blake - Misbehavior I - Robert Gluck

Nayland Blake - Misbehavior I - Sarah Schulman

Nayland Blake - Misbehavior I - Rob Fitterman


Nayland Blake – Misbehavior I – Dominic Vine. (Audio Only)
[display_podcast]
Dominic Vine (still image)