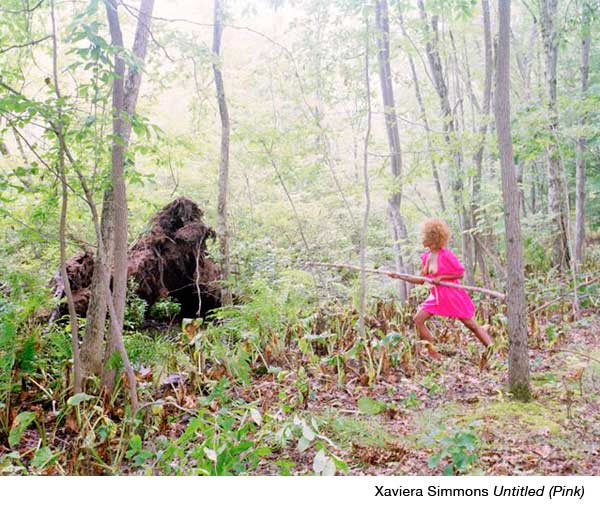 Location One presents newARTtheatre 2:
A conversation with playwright Paul David Young and artists Pablo Helguera, Ohad Meromi, and Xaviera Simmons
Wednesday, April 20, 2011
7pm, Free and open to the public
Pablo Helguera, Ohad Meromi, and Xaviera Simmons talk about their work and how, in different media and in performance, they draw upon and transform theatre for use in the visual arts context. They will discuss participatory theatre, the politics of theatre in the visual arts, theatre as process, community, virtuosity, the performance text, and the role of the body. The discussion, the second in a series moderated by Paul David Young, will be published in the special one hundredth issue of PAJ: A Journal of Performance and Art in February 2012.

Pablo Helguera (Mexico City, 1971) is a New York based artist working with installation, sculpture, photography, drawing, and performance. Most of Helguera's projects explore the relationship between verbal and visual narratives, often relying on historical archives and oral history. In his "The School of Panamerican Unrest," a nomadic think-tank traveled from Anchorage, Alaska to Tierra del Fuego. Helguera has exhibited or performed at MoMA in New York, Museo de Arte Reina Sofia, Madrid; ICA Boston; RCA London; 8th Havana Biennal, PERFORMA 05, Havana; Shedhalle, Zurich; MoMA P.S.1, New York; Brooklyn Museum; The Kitchen, NY, HAU, Berlin, The Kitchen in New York, Tokyo Metropolitan Art Museum, MALBA museum in Buenos Aires, Ex-Teresa in Mexico City. He received a Guggenheim Fellowship in 2008 and a Creative Capital Grant in 2005. In 2011 he won the International Award of Participatory Art of the Region Emilia-Romagna in Italy.
Born in Israel, Ohad Meromi currently lives and works in New York City. Meromi graduated from Bezalel Academy (1992) and went on to receive his MFA from Columbia University School of the Arts (2003). He has exhibited internationally and nationally at venues including The Israel Museum, Tel Aviv; Herzliya Museum of Contemporary Art, Israel; 2nd Moscow Biennale of Contemporary Art; Lyon Biennial, France; Martin Gropius Bau, Berlin; Magasin 3, Stockholm; De Appel Museum, Amsterdam; Sculpture Center, New York; and PS1 Contemporary Art Center, New York. Meromi has received numerous scholarships and awards including a Percent for Art commission (2009), the Fund for Video and Experimental film (2004), I.C. Excellence Foundation (2003), Nathan Gottesdiener Foundation Israeli Art Prize (1998). He was recently granted the Foundation for Contemporary Arts 2008 Grants to Artists Award.
Xaviera Simmons was born in New York City and lives and works in Williamsburg, Brooklyn. She produces photographic, audio, performative, sculptural, installation and video works. Xaviera received a BFA in photography from Bard College in 2004 after spending 2 years of walking pilgrimage retracing the Trans Atlantic Slave Trade with Buddhist Monks. She completed the Whitney Museum of American Art's Independent Study Program in Studio Art (2005) and a two-year actor-training conservatory with The Maggie Flanigan Studio (2006). Major exhibitions and performances include The Museum of Modern Art (2011); Greater New York at MoMA PS1, (2010); The Studio Museum In Harlem (2010); Contemporary Arts Museum, Houston (2007); The Sculpture Center, New York (2009); Zacheta National Art Gallery, Warsaw, Poland; and Art in General, New York. Simmons has works currently On View at The Bronx Museum, NY, the ICA (Boston) and The Galleries of Ogilvy and Mather. She is in upcoming exhibitions at Nicole Klagsbrun Gallery, NY (April 2011) and at The Nouveau Musee National de Monaco (April 2011).
Paul David Young won the Kennedy Center's 2009 Paula Vogel Playwriting Award. His work has been developed or produced at the Alliance Theatre, Kennedy Center, Kraine Theater, La Mama E.T.C., Lion Theatre on Theatre Row, Living Theatre, LMAK Projects, Marlborough Gallery, MOMA PS1, New York Theatre Workshop, Primary Stages, Philadelphia University of the Arts, Red Room, and, in Icelandic, at the Kaffileikhusid in Reykjavik, Iceland. In 2008, he co-curated with Franklin Evans the exhibition Perverted by Theater at apexart. He is a regular contributor to PAJ: A Journal of Performance and Art (MIT Press). In October 2010, he moderated the first newARTtheatre panel at apexart.

Follow us on Facebook