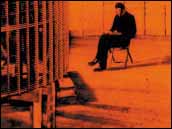 O2=O3; Fractured Oxygen=Ozone
September 20 – November 28, 2001
Opening Reception: September 20th, 6-8 PM
Location One 26 Greene Street NYC 10013
Between Grand and Canal
Click here to view the New Yorker cartoon (pdf) for O2=O3; Fractured Oxygen=Ozone

Location One is happy to announce an exhibition of selected work created by the internationally celebrated artist Keith Sonnier. The exhibition comprises six pieces that result from Sonnier's investigations into the work of Nikola Tesla during the period 1990-1997. The Tesla series "captures" raw electricity in its most spectacular form by stringing copper wires and causing the current to flow and spark between them.
Keith Sonnier, born in Mamou, Louisiana, gained international recognition 30 years ago with his sculptures and installations using neon and argon lights. His most spectacular work in Europe is the one-kilometer long "Lichtweg," which runs the entire length of the Munich airport. Although neon and fluorescent light have been an important part of his artistic vocabulary, Sonnier's work distinguishes itself above all by the variety of materials used, and by its formal as well as thematic complexity.
Beginning with his earliest explorations with light, sound, video, and live and taped broadcasts, Sonnier has engaged in a constant investigation into the process of exchange which constitutes communication. As early as 1975, he created a 2-way open channel performance event connecting New York and Los Angeles via NASA CTS satellite. He explores sometimes by redefining the functions of the transmitter/receiver, sometimes by indicating and reconfiguring elements of the process, but always with an awareness of the energy fields in which we live and maneuver.
Selections of early video work will be presented as part of the exhibition, both on the Location One website and in the gallery. Keith Sonnier was among the first artists to incorporate technology into his work. By making the communication process an integral part of the art context, he forever changed the environment of contemporary art.
Sonnier is a seminal figure at Location One, as our central purpose is to encourage artists from different media and different cultures to experiment with advanced technological tools and delivery systems. He continues to explore technology with the careful tenacity of a research scientist and the vision of a poet.
"These are the perfect images of 'the medium as the message.'"
—Flash Light, 6/01/97