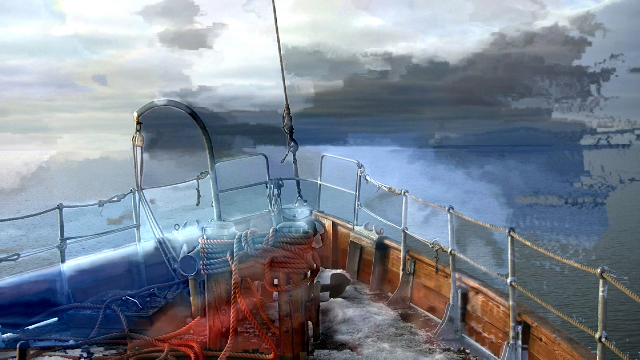 Still from Un Voyage by Jacob Dahl Jürgensen
One and Many
Curated by Claudia Calirman
January 11-February 15, 2012
Opening Reception-Tuesday, January 10, 6PM-8PM
Location One is proud to present One and Many, a group show featuring works by Monica Baptista, Jacob Dahl Jürgensen, Atsushi Kaga, Agnieszka Kurant, David Molander, and Hiraku Suzuki. These artists engage a variety of mediums, from digital film and photography to the traditional art of sewing, transforming one piece into many as they channel possible meta-narratives in their work.
Danish artist Jacob Dahl Jürgensen's video Un Voyage recounts a failed attempt to shoot a 16mm film during a boat trip on the Baltic Sea in the winter of 2011. Departing from an anecdote about the doomed fate of the Jürgensen family's watch-making company, which was founded in Denmark in the late eighteenth century, the artist's video-essay unfolds as a meta-narrative of the story itself. Like the 16mm film, the video itself has been manipulated and also falls apart at key moments, threatening at any point to disintegrate entirely. This all coincides with the failure of the family's business, which in turn ultimately refers to the fall of capitalism. A constant sense of breakdown unites the multiple layers, with form and content at once complementing and collapsing into each other.
Dublin-based, Japanese artist Atsushi Kaga presents Nerd Bag, a performance-based installation in which the artist and his mother will be sewing nerdy bags inside Location One's gallery. For ten days—January 11 through 21—the artist and his mother will sew bags in front of the public. The project is inspired by his mortifying childhood experience of having to bring his mother's hand-made bags to the school, while other kids had official plain bags (purchased in shops). Kaga often uses Japanese vernacular visual language to explore the complex search for personal and cultural identity and the social issues we face in daily life. The installation includes some sculptures of dying vegetables, which reminds him of his parents' fate in the near future.
Polish artist Agnieszka Kurant is interested in changing status of objects and icons. Her film Empire (2011) is a remake of Andy Warhol's 1964 movie of the same name, which comprises eight hours and five minutes of continuous, static footage of the Empire State Building. In Kurant's version, a single stationary shot of the Palace of Culture and Science in Warsaw—an unwanted gift from Joseph Stalin to the people of Poland—replaces the Empire State Building. After the fall of communism, in 1989, this hated icon became both a tourist destination and a local symbol of cool. In 2000, four clocks were added to the top of the building, again changing its collective memory. For the filming of Kurant's Empire, the clocks were set to run backwards for one hour. No information about this fact was announced until the end of the day, provoking all sorts of confusion among city dwellers.
Tokyo-based artist Hiraku Suzuki presents his ongoing project GENGA (001 – 1000), an investigation of the constantly expanding field of drawing. Suzuki's practice includes installations, live drawing performances, films, frottages, and books. His method is analogous to the act of archeological excavation, in which mundane elements from everyday life—asphalt, earth, leaves, markers—are transformed into universal hieroglyphs that abstractly suggest a broader galaxy. Suzuki mixes ancient and new symbols to create a universal language, generating an ever-shifting puzzle of essential shapes, forms, and rhythms.
Swedish artist David Molander creates animated and painterly tableaus of urban centers from the pool of documentary materials that he collects in digital photography and film format. In his series Through Bridges, Molander constructs large-scale, kaleidoscopically multilayered views of the cityscape, capturing the urban landscape and transforming it in images that are both abstract and disorienting. He dissects and reassembles interiors, samples streetlights and stitches together pavement, fusing parts of the city that although closely linked, seldom meet. Residing in the space between document and fiction, Molander's work reveals a patchwork of possibilities, emphasizing the complex relationship between architecture, living spaces, and social environment.
Visual artist and filmmaker Monica Baptista, from Portugal, presents the super8 film All Is for the Best in the Best of All Possible Worlds, a title taken from Voltaire's satire Candide ou l'Optimisme. Shot in the 15 October 2011 in Times Square, when demonstrations were held promising a global revolution, drawing a line coming from the Arab Spring, the Spanish "Indignants", the Greek Protests and finally the Occupy Movement. On this loop film, the revolution seems suspended in the repetition, evoking the collective euphoria and arrhythmia regarding the future. Her experimental films play out like fragmented collages, artists' notebooks, from documental to fictional cinema, exploring the relationship between moving image and stills. This immersive work is a reflection on the phenomenology of perception and the relationship between representation and reality.