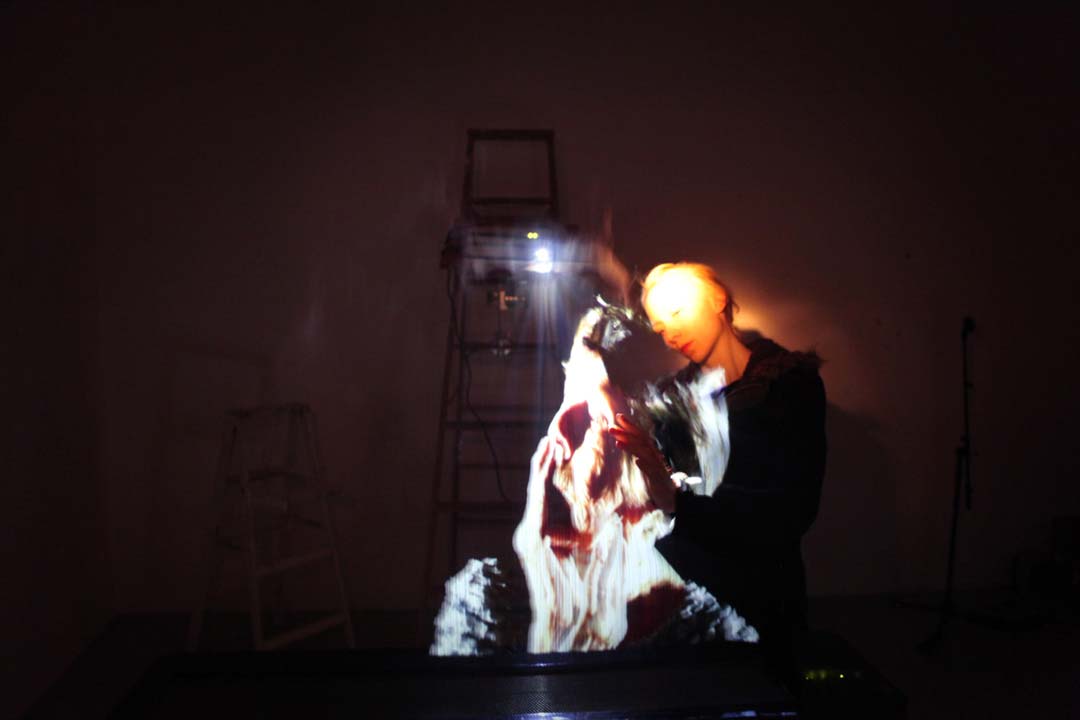 Phosphene Variations
by Jason Akira Somma
September 12-November 17, 2012
Opening Reception Wednesday Sept 12, 6-9pm
Performances, 7pm
Opening night and weekly performances through November 15
Performance curator: Luke Miller
Location One is proud to present "Phosphene Variations", a new video/performance/holographic exhibition by Jason Akira Somma.
The greatest dancers and performance artists of our time—Laurie Anderson, Mikhail Baryshnikov, Joan Jonas, Robert Wilson and others—perform their signature movements and are captured as floating holograms, which members of the audience can interact and perform with.
This new technology will redefine the ways in which we access, record and experience dance and performance. This is the first ever interactive performance holography exhibition, premiering September 12th at Location One.
"Phosphene Variations," a performance happening-and-exhibition event created by Jason Akira Somma, introduces interactive archival performance holography to the worlds of dance and performance art. Somma's approach has been described as "the future of dance and art" by Daniel Stern, Director of the Jerome Robbins Foundation; as "A true revolution…stupefying poetry, humanity and invention" by Le Figaro. Jiří Kylián, longtime Artistic Director of Nederlands Dans Theatre, has said, "dance has to be taken out of its isolation, and Jason has the range to do this."
"Phosphene Variations" will premiere at Location One September 12th, featuring a holographic participation by Jiří Kylián, live and holographic performances by Frances Wessells, and Leslie Kraus, and an introductory context statement by Kate Valk of the Wooster Group. The exhibition will also include weekly performances by dance legends, as well as up-and-coming artists, throughout the duration of the exhibition. Somma will "perform" with the artists using his revolutionary video techniques, exploring the undiscovered edge between visual and performance art, as it uses performance as the well-spring for independent visual content.
The first wave of artists who have agreed to be turned into holograms in this project includes: Laurie Anderson, MIkhail Baryshnikov, Carmen DeLavallade, Joan Jonas, Jiří Kylian, Luke Miller, Richard Move, Gus Solomons Jr., Frances Wessells, Bill Shannon and Robert Wilson.
Live performances will take place each week through November 15th (Please note that November 8 and 15 are Thursdays). Interaction with holographic performers, and video works will be on exhibit during Location One's normal gallery hours and otherwise available by prior arrangement.
LIVE PERFORMANCE SCHEDULE
Wednesday, Sept 12th – Frances Wessells, Leslie Kraus
Wednesday, Sept 19th – Kira Rae Blazek, Burr Johnson
Wednesday, Sept 26th – Flexers
Wednesday, Oct 10th- Dirty Martini, Julie Atlas Muz, Monstah Black
Wednesday, Oct 17th – Brian Brooks – Postponed
Wednesday, Oct 24th – Jeanine Durning, Manelich Minniefree – Postponed
Thursday, Nov 8th – Susan Marshall & Company, Bill Shannon, Vanessa Walters – Postponed
Thursday, Nov 15th – Phosphene Redux & Closing Party (Various artists who performed earlier in the season return to present short excerpts) – Cancelled
Jason Akira Somma is an internationally recognized visual artist and choreographer known for his unique hybridization and extensive training in both fields. His most recent mentor is Jiří Kylián. He was the first American to receive, the Rolex Arts Initiative Award for dance, supporting his work in performance visual art and technology in 2008. "Phosphene Variations" was developed with support from the Rolex Mentor and Protégé Arts Initiative, which pairs emerging artists with masters in the fields of dance, film, literature, music, theatre, and visual arts for a year of creative exchange.
The "Phosphene Variations" approach involves video recordings of dancers and performance artists on stage, which are then made into holographic installations. This constitutes the permanent visual record of the artist, which will be made available to the artistic community. But Somma's technology then allows the holographic recording to be projected onto a fine screen of water mist. When live participants interact with the screen, the image responds to their intervention, creating the "dance with legends" possibility.
Jason Somma is the only artist today applying this technology to archiving dance. A prototype of "Phosphene Variations" was premiered at the National Theatre of Paris in 2011, to rave reviews. William Forsythe said, "Jason has done for video what Jackson Pollock did for the canvas. He is an electronic archeologist and spearheading the next movement in dance." Dance Magazine said, "a small piece of dance history. At times dazzling and full of brilliant colors, the performance is woven by a dialogue between the real and virtual, and the human and technological." Telerama (Paris) said "offers performers, if not the role of their lifetime, a role that fits them perfectly. Suddenly before your eyes, true lighthearted beauty."
"Dance IS a visual art," says Somma. " The body has always been the native land of any artistic endeavor. However, due to the ephemeral and ineffable nature of performance and kinesthetics, we've lost the wisdom of our historic predecessors. I want to generate performance happenings that create autonomous pieces of art and with "Phosphene Variations" go a step further and allow spectators to interact with such legends beyond their life span for future generations to enjoy and garner knowledge."
Jason Akira Somma, raised in Virginia, graduated summa cum laude from Virginia Commonwealth University. In ensuing years, he danced with Bill T Jones/Arnie Zane Company and Pearson/Widrig, and choreographed for Sadlers Wells in London, Chaillot National Theater in Paris, and Lyon Opera Ballet. His video work has been exhibited at New York's New Museum and Guggenheim Museum and Glasgow Center of Contemporary Art.
Location One is extremely grateful to The NY State Council on the Arts, The New York City Department of Cultural Affairs,and Location One's International Committee for making this event possible.



Gallery Hours
Tuesday-Saturday 12-6pm
Opening Reception September 12, 6-9pm
Opening Night Performance 7pm, free and open to the public
All other Wednesday Performances $10