Kurt Ralske and Chantal Yzermans
December 16, 2003 8 PM
Admission: $10, members free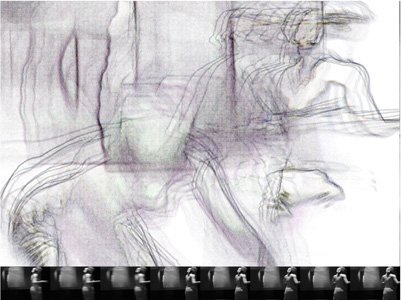 ". . . the power of this solo lay in its unarticulated yet strong emotions, conveyed through impressive physical and emotional control."
-Jennifer Dunning, in review of "R-1" for New York Times (April 3, 2001)
"RL.1" is a work for solo dancer, video, and music. Dancer/choreographer Chantal Yzermans creates expressive, abstracted forms and motions with the restrained power and expanded time-sense of butoh. In "RL.1", she performs blindfolded. Video artist Kurt Ralske uses a camera to capture images of the dancer in real-time. The images are processed and layered in real-time, creating a dialogue of shapes and forms with the dance. Dance and image drift in and out of abstraction, simultaneously or in contrast. The video functions variously as a set design, as a commentary on the dance, and as counterpoint to the dance. At times, multiples of images of the dance act as a "real-time Greek chorus" to the solo dancer, providing a record of what has occurred, expanding on what is occurring, and hinting at what is to come. At other times, the dancer's motions have the quality of a ritual, with the video's abstractions serving to make the invisible aspects of the ritual visible. "RL.1" utilizes two very different techniques of communication via the presentation of image (dance and video), while achieving a harmony and simultaneity of expression. "RL.1" premiered at Joyce Theater Soho in May 2001.
RADICAL LOW is a dance and multimedia ensemble formed in Spring 2001 by Kurt Ralske and Chantal Yzermans. Radical Low has performed at Joyce Theater Soho, Merce Cunningham Studio, at Recyclart Centre (Bruxelles, Belgium), the 92nd St. Y, Judson Hall, and Galapagos Art Space.
RADICAL LOW is exploring the intersection of dance and technology by using custom software created by the artists. New avenues are opened for the relationship between dance and sound and image. Some techniques the artists have used are: video capture, real-time video processing, image analysis, sensors, and networked audio-video control systems

Kurt Ralske is a Manhattan-based video artist and composer. His work is exclusively created with his own custom software, written in C, Java, and Max/MSP, and involves the expressive improvisation of both sound and image, simultaneously and in real-time. Kurt has performed at museums, galleries, and theaters throughout Europe, Canada, and the US, including the Los Angeles Museum of Contemporary Art and the Montreal Museum of Contemporary Art. The New York Times has praised his "compelling, ingenious alliance of sound and motion" and his "technological wizardry".
In February 2003, Kurt received received the Image Award at Transmediale International Media Art Festival in Berlin, for for his work on the DVD "Live in Bruxelles" by real-time video improvisation ensemble 242.pilots.
Kurt works mainly as a performer: as a soloist, with other video artists, with live dancers, or with live musicians. He has created interactive video installations, software art, and video-derived still images. He is the author of Auvi, a commercially released software environment for creating custom real-time video programs. (http://auv-i.de)
Chantal Yzermans [dancer/choreographer] was born in Ostend, Belgium, currently residing in NY. Chantal worked in Europe as a freelance choreographer in collaboration with Belgian composer Starfish Pool. Together they toured throughout Europe and Canada with "Ritual for the Dying." Yzermans was invited to work for the Belgian National Television, German National Television and Festival van Vlaanderen for which she choreographed a contemporary opera "Turm aus Zimst" by German composer Hans Rotman and Belgian film director Jaak Servaes. As a choreographer in residence, she worked at the Keizer Karel Hogeschool in Antwerp, Belgium, where she created "11 Windmills and One Dandelion," presented at venues throughout France, the Netherlands, Germany and Spain. She received an award "The Vondelpreis (reisestipendium)" from the arts granting organization Alfred Toepfer Stifftung (Hamburg, Germany) for Choreography in 1998. In NYC, her work has been performed at venues such as Judson Church, presented by Movement Research; 92nd Street Y; the Merce Cunningham Studio; and Joyce Theatre Soho.