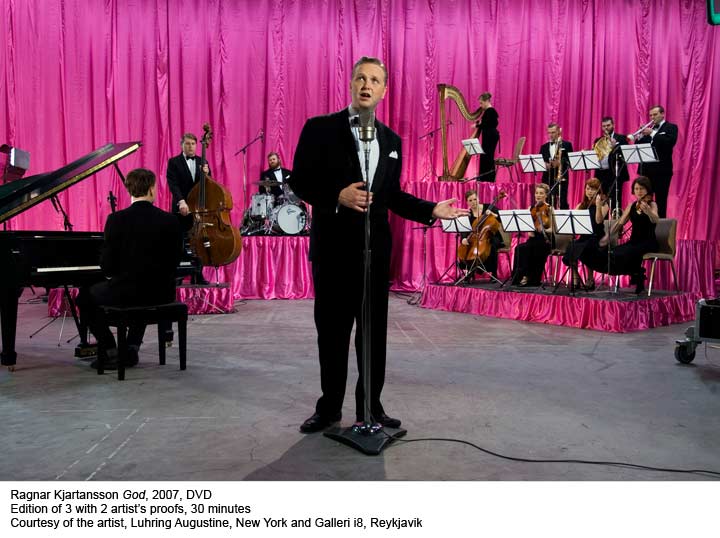 Performance artist Ragnar Kjartansson with Jovana Stokic
Wednesday, February 24, 2010, 7 pm
Curator of Location One's Abramović Studio, Jovana Stokić will speak with artist Ragnar Kjartansson about his current and past work, focusing on his performative works. The artist grew up to become, among other things, a pop star in his native Iceland, with his band Trabant. He is also recognized as an artist from performances such as The Opera (his 2001 graduation piece from the Academy of Arts in Reykjavík, in which he created a Rococo theatre in a small room and performed for ten days straight), Death and the Children (2002) or The Great Unrest (2005), in which he dressed as a Viking and sang the blues for an entire week in an abandoned theatre in the countryside. Artist will talk about his experience of his   six-month long performance at the Pavilion of Iceland at 53rd  Venice Biennale, 2009.
The evening is a part of activities of Abramović Studio at LOCATION ONE. Beginning October 2009 the studio, curated by Jovana Stokić, involves artists from Location One residency program in engaging with performance art. The ABRAMOVIĆ STUDIO within Location One is dedicated to exploring long-durational performance works through open-ended forms of workshops, panels and discussions. Marina Abramović is the subject of a major retrospective exhibition at MoMA in March 2010 titled "Artist is Present" in which she will be performing continuously throughout the whole duration of the exhibition.
The talk is free and open to the public.
Ragnar Kjartansson (b. 1976, Reykjavík, Iceland) conjures up emotions in his work that he can pass on to his viewers, with a keen eye for the tragicomic spectacle of human experience where sorrow collides with happiness, horror with beauty, and drama with humor. In his versatile artistic career, he has focused on video, painting, and drawing, with performance at the heart of his practice. Both of Kjartansson's parents are actors, and acting, repetition, and identity are ever-recurring themes in his work. He has taken on countless roles in his performances, combining his own personality with personas from cultural history. His work incorporates a mélange of show business icons and nostalgic imagery from bygone eras of theater, television, music, and art, allowing him to blur the border between life and art, reality and fiction, and to create bold statements that strike chords with his audiences. Kjartansson graduated from the Iceland Academy of the Arts in 2001, and is the youngest artist ever to represent Iceland at the International Art Exhibition – La Biennale di Venezia in 2009. He has built an impressive roster of international exhibitions, including several major solo shows in museums, galleries, and art festivals in the last few years. He is representative of the vibrant young art scene in Iceland and has formed an engaging individual style that has
drawn the attention of the international art world. Kjartansson is represented by i8 Gallery in Iceland and Luhring Augustine in the United States.
Belgrade-born, New York-based art historian and critic Jovana Stokić holds a Ph.D from the Institute of Fine Arts at the New York University. Her dissertation, titled "The Body Beautiful: Feminine Self-Representations 1970 – 2007," analyzes works of several women artists — Marina Abramovic, Martha Rosler, Joan Jonas — since the 1970s, particularly focusing on the notions of self-representation and beauty. Jovana has been writing art criticism for several years, and has curated several thematic exhibitions and performance events in the US, Italy, Spain and Serbia. Jovana was a fellow at the New Museum of Contemporary Art, New York, a researcher at the Whitney Museum of American Art, New York, and the curator of the Kimmel Center Galleries, New York University. She has most recently written an essay for Marina Abramović's MoMA exhibition catalogue.
Here is the video of this artist talk: