At the 11th Annual Art Under the Bridge Festival, curator Felicity Hogan presents:
Duron Jackson: "Five Men"
Rashaad Newsome: "Shade Compositions"
Friday, September 28, 2007.
Performances begin at 7pm:
Rashaad Newsome followed by
Duron Jackson (15 – 20 mins each)
Location: 111 Front St Gallery Buildings, 2nd fl., # 216.
Installation on view: Saturday, 29th, 12 – 8pm and Sunday, 30th, 12 – 8pm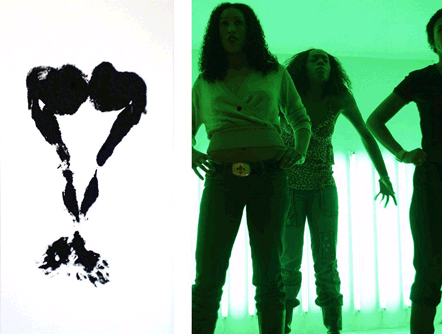 For the 11th Art Under the Bridge Festival, presented by Dumbo Arts Center, curator Felicity Hogan brings together two emerging New York artists, Duron Jackson and Rashaad Newsome, who are connected through their exploration of issues concerning the role of black identity within popular culture and current society. Using performance, installation, video and digital technology in their artistic practice, both artists harness the language of gesture, choreographing and directing male and female performers, to produce original, dynamic and innovative artworks.
Rashaad Newsome's "Shade Compositions" is an ongoing performance series that, depending on the nature of the space, uses a variable number of black females who perform choreographed dismissive actions that are often characterized as "ghetto" in order to create an orchestra of rhythmic compositions. Using an instrument created with Max MSP technology, a crescendo of aggravated music is built up by the artist editing the beats created live by the girls, thus making each a one-of-a-kind performance.
Duron Jackson presents "Five Men," a performance that examines the ongoing obsession and distortion of the black (non-European) body throughout contemporary culture. This work is an effort to visually distill (extract) the complexity of what it is to be alien within a western social paradigm while narrating a way of being. Life- sized impressions are taken directly from the male figure, yielding trace or evidence of a unique mark or symbol, which in turn places the unadorned male body in discourse with the social body.
Duron Jackson is a Brooklyn based multi – disciplinary artist whose recent solo exhibition "Revere/Riviled," curated by Isolde Brielmaier, was held at the Rotunda Gallery in Brooklyn, 2007. Recent group shows include "I Died For Beauty," curated by Omar Lopez-Chahoud, Newman Popiashvili, New York, 2007 and "Scarecrow," curated by David Hunt, Postmasters Gallery, New York, 2006.
Originally from New Orleans, Rashaad Newsome lives and works in New York. "Shade Compositions" will be performed in 2008 as part of his residency at Location One and he will also be performing at The Kitchen in spring 2008. Later this year a video of the project is being made as part of the BCAT/Rotunda Gallery's multimedia residency. Solo exhibitions include "Shade Compositions" at Glass Gallery in Paris, France and K.U.E.L., in Berlin, Germany, 2006. Newsome is currently sponsored by Harvestworks, NY.