April 6, 2007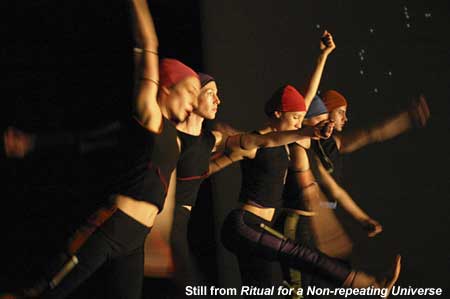 Philippa Kaye Company, Special One-Night Only Dance Performance, Friday, April 6, 2007
Location One presents
Philippa Kaye Company
"Ritual for a Non-repeating Universe"
with music performed by The AirBand
Friday April 6th
8PM
tickets $20 (Location One members FREE)
A one-time expansive event mixing the analog – cray-pas and contemporary dance – with the digital – sensored sound and light.In Ritual for a Non-repeating Universe, an exploration of Chaos Theory and the phenomena of unpredictable systems, Philippa Kaye Company dancers pitch their sensitive bodies into the rigors of momentum, making quick and unalterable decisions as their limbs swing and fall, while a computer program designed by judsoN (Judson Wright) tracks their motion and translates it into digital animation. In occasional doomed efforts for control, the dancers attempt to orchestrate the proceedings or each other, but moments of equilibrium arrive magically when they surrender. Langdon C. Crawford uses his laptop compositions to respond to changes in the moment. The dance is highlighted by costumes by Heather Bowie.The AirBand will play a few original compositions and improvise with Philippa Kaye Company.
Dancers performing on April 6th will be Toby Billowitz, Tiffany Cunningham, Chris Daftsios, Azahara Ubera Beidma, Lauren Engleman, Kristin Hapke, Philippa Kaye, Storme Sundberg.THE AIRBAND
Langdon C. Crawford, William David Fastenow, Laura M. Sinnott
The group gets its name from the first instrument built for the band in 2006. The MIDI AirGuitar was designed to allow the musician to control a computer's sound output with gestures from afar. The band has designed their handmade instruments to manipulate a wide sound spectrum. www.theairband.comPhilippa Kaye:
Philippa Kaye has been making dances for public performance since 1995, and has been dancing all along. She trained at the School of American Ballet and performed with American Ballet Theater as a child in New York City. Entranced by American Musical Theater and popular dance forms, she simultaneously developed a taste for the more personalized vocabularies of Modern Dance. After Graduating with a BA in Studio Art from U.C. Santa Cruz, she performed with numerous Contemporary choreographers in San Francisco and New York.In 2000, she was commissioned by Dancing in the Streets for Wave Hill to create "Manicure," a site-specific outdoor work, and by Cooper-Hewitt National Design Museum Smithsonian Institution to set an evening of work in its public garden on Fifth Avenue. After studying the possibilities of interactive electronic media with performance and receiving an MFA in choreography from Sarah Lawrence College in 2002, she formed Philippa Kaye Company to continue making dances. Her work has also been presented by Dixon Place, Dancenow/NYC, Chashama, New Dance Alliance, The 92nd St. Y, Sarah Lawrence College, SWEAT in Hoboken, N.J., Concord Academy, Concord, MA, and the D.C. International Improvisation Festival, and seen at many New York City venues including Joyce Soho, Pace Downtown Theater, The Gene Frankel Theater, Fordham University, as well as The Painted Bride, Philadelphia, PA. She has been a Fieldwork facilitator and is an active teacher.
A strong début season marked by technical complexity and understated wit. In "Ritual for a Non-Repeating Universe," the troupe dances as if guided by unseen forces. Crayons gripped in the dancer's fists record their motions on the walls and floor, and when the lights go out, glow sticks tied to their shins and forearms leave florescent traces in the air. (Brian Seibert, The New Yorker)