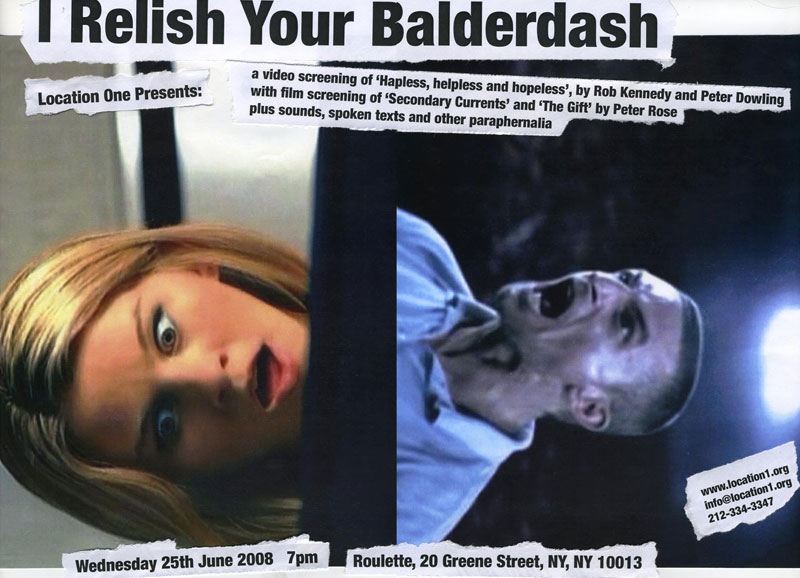 A screening and reading and talk with artists Rob Kennedy and Peter Rose
Wed 25th June 2008 7pm
A video screening of Hapless, Helpless and Hopeless, by Rob Kennedy and Peter Dowling, 2008, (34 mins), with film screenings of Secondary Currents (1983, 17 mins) and The Gift (1994, 6 mins), by Peter Rose plus spoken texts, sounds and other paraphernalia
A screening/talk/reading presented by Rob Kennedy and Peter Rose concerning the absurdities, problems and possibilities of language, as affected by image, text, time, sense and nonsense.
Hapless, Helpless and Hopeless is a video by Rob Kennedy and Peter Dowling produced entirely of sampled television advertisements that attempts to adapt and re-define the codes at work in these sales pitches, building a "grammar" that can be used to suggest other readings, other outcomes, other problems, than those nominally prescribed in the role of the advertisement, This is not in some vain attempt at trying to negate the power of these adverts, but in order to construct a constantly shifting series of relationships that mines the psychological, emotional and semiotic power of these highly produced images and sounds.
http://www.steadykammer.net/pages/CollaborationsKennedy.html
Grouped together under the title VOX 13 is a series of films by Peter Rose dealing with the complexities of language. By disturbing generally understood codes and conventions these films both critique the problems of communication whilst savouring the joy and humour of language as it is let loose on itself. 'Secondary Currents' and 'The Gift' are just two of the films from this fascinating series.
A variety of other texts and sounds will be read and played to further present the obscurity of language and our fragile relationship to the signs and conventions that we so readily rely on.
With thanks to Peter Rose, Location One, Filmmakers Coop, NYC.
Rob Kennedy's residency at Location One is funded by Scottish Arts Council.
Rob Kennedy is an artist from Glasgow, UK, working mainly with video and installation. Coming from a background in sculpture, his video work is concerned more with the physical manipulation of material, language and time rather than acting as a framing device to view the world through a lens. A series of current projects are focused on collaborations with several composers/musicians using techniques of improvisation both live and in the studio, to play with certain generic conventions of television production.
His work has been screened and exhibited in numerous festivals and galleries including Tate Britain, Venice Biennale, Tramway, Transmediale, Impakt, Backup and the Edinburgh film festival.
Since 1968 Peter Rose has made over thirty films, tapes, performances and installations. Many of the early works raise intriguing questions about the nature of time, space, light, and perception and draw upon Rose's background in mathematics and on the influence of structuralist filmmakers. He subsequently became interested in language as a subject and in video as a medium and generated a substantial body of work that played with the feel and form of sense, concrete texts, political satire, oddball performance, and a kind of intellectual comedy. Recent work has involved a return to an examination of landscape, time, and vision and takes the form of installation. Rose has been widely exhibited, both nationally and internationally, and has been included in shows at the Museum of Modern Art, the Whitney Biennial, the Centre Pompidou, the Philadelphia Museum of Art, the Film Society at Lincoln Center, and the Rotterdam International Film Festival.