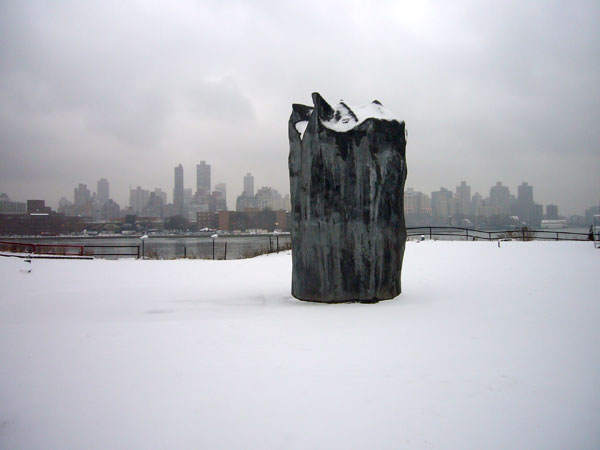 Rudy Shepherd (USA) – Black Rock in Winter
Rudy Shepherd's latest work explores the nature of evil through the mediums of painting and sculpture.  This exploration involves investigations into the lives of criminals and victims of crime.  He explores the complexity of these stories and the grey areas between innocence and guilt in a series of paintings and drawings of both the criminals and the victims, making no visual distinctions between the two.  By presenting the people first and the stories second a space is created for humanity to be reinstilled into the lives of people who have been reduced to mere headlines by the popular press.
Going along with these portraits is a series of sculptures called the Black Rock Negative Energy Absorbers.  They are a group of sculptures meant to remove negative energy from people allowing them to respond to life with the more positive aspects of their personality.  It is on one hand a response to living in New York City for the last seven years and witnessing the madness that take place on the subway system, and an approach to political art that hopes to push the dialogue started in the late 80's/early 90's forward into 2008 by looking at the problems of society in a more comprehensive way, incorporating the rhetoric of new age mythology, and ancient religions.
Based in Harlem, NY, Rudy Shepherd received a BS in Biology and Studio Art from Wake Forest University and an MFA in Sculpture from the School of Art Institute of Chicago.  He has been in group exhibitions at P.S.1 Contemporary Art Center, NY, The Studio Museum of Harlem, NY, Bronx Museum of Art, NY, Art in General, NY, Triple Candie, NY, Socrates Sculpture Park, NY,  Cheekwood Museum of Art, TN, Contemporary Museum, Baltimore, MD, Aldrich Museum of Contemporary Art, CT, Southeastern Center of Contemporary Art, NC, Museum of Science and Industry, Chicago, IL, Tart Gallery, San Francisco, CA, Analix Forever Gallery, Geneva, Switzerland and solo exhibitions at Mixed Greens Gallery, NY, Regina Miller Gallery, Carnegie Mellon University, Pittsburgh, PA.  He has been awarded Artist in Residence at PS1 National/International Studio Program, PS1 Contemporary Art Center, Long Island City, NY, Artist in Residence Visual + Harlem, Jacob Lawrence Institute for the Visual Arts, New York, NY and Emerging Artist Fellowship, Socrates Sculpture Park, Long Island City, NY.
He is currently represented by Mixed Greens Gallery, NY and has an upcoming two person exhibition at Paperwork Gallery, Baltimore, MD.
rudyshepherd.blogspot.com
mixedgreens.com
onedayover.blogspot.com
Rudy's residency at Location One is supported by the Rockefeller Brothers Fund.