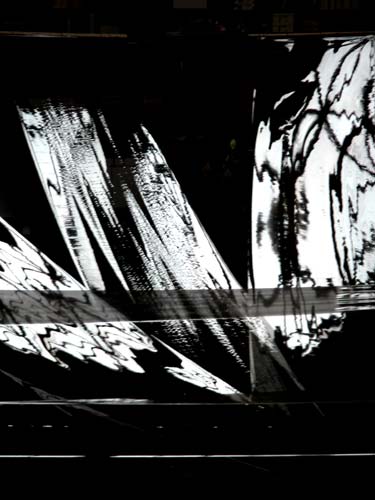 Sound Installations at Location One
Slowscan Soundave (III) & The Telæsthetic Finger
October 11 – November 26, 2005
with works by Douglas Repetto, Atsushi Nishijima, Kevin Centanni, Heather Wagner
curated by Heather Wagner
Location One continues its Fall 2005 season with an exhibition in two parts featuring a large-scale interactive installation in the main gallery and a collection of smaller sound pieces in the project room.
Slowscan Soundwave (III) is an immense, interactive sound sculpture by artist and dorkbot instigator Douglas Repetto. Consisting of enormous strips of sound-sensitive transparent mylar strewn from the ceiling, motors, and custom electronics, the piece "breathes" in sympathy with the ambient sounds in the gallery, rippling and reflecting light when there is a sound and resting, invisible, when there is silence. Because of the transparency of the mylar strips, the effect is subtle and eerie, a gossamer membrane that functions as acoustic barometer, making visible sonic phenomena that are often heard, but rarely seen.
Telæsthesia is the perception of events or objects not actually present. In Location One's Project Room, we present The Telæsthetic Finger, a selection of works that function as acoustic crab traps: devices that are cast out and reeled back in, filled with booty…or not. On display: the booty and the devices.
Works by Kevin Centanni (sneaking into frequencies usually accessible only by police radios and emergency pagers, this piece uses a computer script to convert the data to ASCII and the messages are presented in real time on a scrolling LED display like so many stock quotes); Atsushi Nishijima (recordings at the end of a kite sent out of sight and reeled back in), and Heather Wagner ("Attempted–Not Known" comes out of an old hobby of sending recording devices through the mail, gathering acoustic documentation of their journeys. In this version, the packages are sent to impossible addresses, for example "GOD", or "Amelia Earhart" and are, hopefully, returned to sender. Inexplicably, the reasons for nondelivery – "Insufficient Address", "Outside Delivery Limits" – vary from addressee to addressee.
Artist Biographies:
Douglas Irving Repetto
is an artist and teacher. His work, including installations, performances, recordings, and software has been presented internationally. He runs a number of arts/community-oriented groups in New York City and on the web, including dorkbot: people doing strange things with electricity, ArtBots: The Robot Talent Show, organism: making art with living systems, and the music-dsp mailing list and website. When not teaching or making art, Douglas spends much of his time cooking, coveting buildings, and socializing with members of the plant kingdom. He is Director of Research at the Columbia University Computer Music Center and lives in New York City with his wife, writer Amy Charlotte Benson; two cute/bad cats, Pokey and Sneezy; and many plants.
Kevin Centanni
is a veteran of physical computing and interactive multimedia. His technological wizardry and innovative approach to high-tech problems have led to his involvement in many projects, ranging from museum installations to corporate trade show exhibits.Kevin is currently President of Controlled Entropy, a Brooklyn based technology consulting firm that has been producing interactive technology for over 10 years. From 2000 to 2004, Kevin was also one of the owners of Remote Lounge, a unique interactive bar/nightclub in New York City. Previously Kevin Centanni was Director of Technology for Interfilm, an interactive motion picture company that went public in 1994.
Atsushi Nishijima
is a composer and visual artist. Originally from Kyoto and trained in experimental and contemprary music, Nishijima creates sculptures and installations which emphasize the idea that sound, and thereby music, is inherent in all objects and environments. A particularly important resource for the artist is the city, which becomes a gigantic synthesizer. He participcated in Location One's International Residency Program and had a solo show entitled "Subtractive Creation: Visible Sound", 2001. His work has been show in Asia and the US, including Art Omi International Arts Center, New York, 2003, Sound in the Landscape; The New Museum of Contemporary Art, New York, 1994 with Rolywholyover A Circus as part of the Citycircus. Nishijima is also a performer and was featured in Roulette's Festival of Mixology 2003, New York and the Tokyo Performing Arts Market – Alternative "Discovering New Talent – Music".
Heather Wagner
is an artist and practicing 'pataphysician with a black belt in Taiwan (inadvertently left in hotel room). She plays drums with the indie-rock band Morex Optimo and is director of online exhibitions at Location One. She is grateful to the curator for thinking of her.