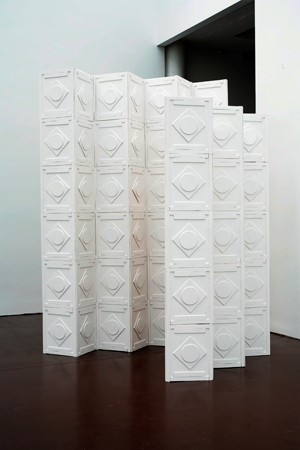 Born in 1972 in Aylesbury , Sophie Macpherson lives and works in Glasgow, where she graduated with honors from the Environmental Art Dept, Glasgow School of Art. Macpherson develops an cross disciplinary practice in which research and the making of objects relates as much to performativity as the content does. She makes constructions, sculptures, photographs and drawings that suggest interrelated narratives. Her investigation encompasses the theatrical landscape and the histories of stage and dance.
Recent exhibitions include: 2008, Laura Bartlett Gallery, London; Sorcha Dallas Gallery, Glasgow Print studio, Centre for Contemporary Arts , Glasgow; Spike Island , Bristol, 2007. In 2003, Sophie was included in the group show "Half the World Away", Hallways contemporary Art Center, Buffalo, New York.
Sophie's residency at Location One is supported by the  Scottish Arts Council.
She is also represented by Sorcha Dallas Gallery in Glasgow.
image: White screens the decline of the principal boy – 2007