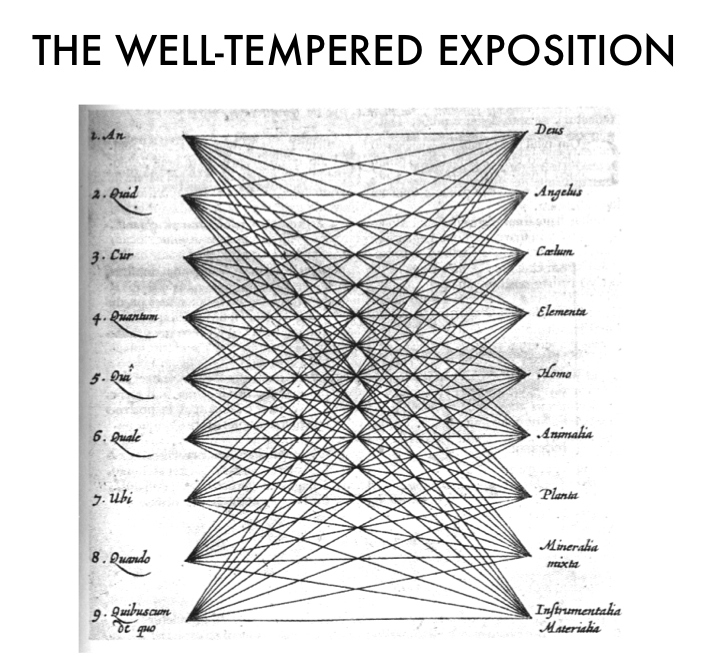 Pablo Helguera
The Well-Tempered Exposition
Book I, part II
Friday, November 18, 7pm
Beatriz Helguera, piano
And Katherine Ademenko, Lisa Gross, Ryan Hill, Brian
Linden, Melanie Lockert, Laura Lona, Richard Saudek
and Corey Tasmania

As part of Performa 11, artist Pablo Helguera presents the second chapter of The Well-Tempered Exposition, a methodical investigation on the formal components of the performance art practice.  The year-long project consists in the creation of 48 speech-based scores which will be performed as a result of a series of public experimental workshops in various cities. Upon its completion, the final aim of The Well-Tempered Exposition is to exist as a collection of scores addressing the rhetoric, contrapuntal and compositional structure of performance art as we understand it today.
The WTE is structured around the existing forms in Johann Sebastian Bach's Well-Tempered Clavier (1722),  a collection of keyboard exercises composed in all 24 major and minor keys, originally intended as a pedagogical textbook "for the profit and use of musical youth desirous of learning, and especially for the pastime of those already skilled in this study."  Today it is considered one of the foundational works of modern Western music.  The WTE project seeks to retain Bach's original pedagogical intent while also "translating" the complex compositional formulas of Bach's work into correlational forms such as verbal counterpoint, contextual harmony, movement,  and other elements.
Pablo Helguera is currently Senior Artist-in-Residence at Location One.
The project is supported in part by a fellowship of the Franklin Furnace Archive. Franklin Furnace wishes to acknowledge The SHS Foundation's gift in honor of Ruth Hardinger for support of Pablo Helguera's "The Well- Tempered Exposition: Book I" at Location One on Nov. 18th for Performa 11.
September 21, 2011 Prelude (project launch), Location One
November 18, 2011 Book I, part one, Location One (as part of Performa 2011-sponsored by Franklin Furnace)*
February, 2012 Book I, part two, Berlin
May, 2012 Book I, part three, Havana Biennial, Cuba
June, 2012 Book II part one, Mexico City
September, 2012 Book II part two and final at Location One
*Franklin Furnace wishes to acknowledge The SHS Foundation's gift in honor of Ruth Hardinger for support of Pablo Helguera's "The Well-Tempered Exposition: Book I" at Location One on Nov. 18th for Performa 11.
Pablo Helguera
Born in Mexico City, 1971. Lives and works in New York Pablo Helguera (based in New York, born in Mexico City, 1971) works in the fields of pedagogy, literature, musical composition, and theater. His projects have included performance lectures, scripted symposia, and panel discussions with or without the knowledge of the audience, as well as a variety of experimental formats of verbal presentation. Helguera's works have been presented in many venues such as the Liverpool Biennial, Performa 05, Museo Reina Sofia in Madrid, ICA in Boston, MoMA, among others. His play The Juvenal Players, produced by Grand Arts in Kansas City, was presented at The Kitchen in 2010. His orchestral work Endingness was performed by the Detroit Symphony Orchestra under the direction of Leonard Slatkin. He is the author of more than 10 books including Theatrum Anatomicum (and other performance lectures), a collection of performative works. His social practice project The School of Panamerican Unrest (2006) consisted in the creation of a nomadic schoolhouse that traveled by land throughout the Americas from Alaska to Chile, presenting collaborative performance and civic events in over 26 cities. He has been recipient of the Guggenheim Fellowship, the Creative Capital Grant; and in 2011 was named the first winner of the International Award for Participatory Art of the Regione Emilia Romagna in Italy. As educator, Helguera has worked in museums for over two decades, currently working as Director of Adult and Academic Programs at The Museum of Modern Art. He is the Pedagogical Curator of the 8th Mercosul Biennial, opening in September 2011.
Beatriz Helguera, pianist
Born in Mexico City and based in Chicago, Helguera studied with Maria Teresa Rodriguez, one of Mexico's foremost pianists , at the National Conservatory of Music, and graduated obtaining the Concert Pianist Diploma. She also holds a Master Degree in Piano Performance from the Meadows School of the Arts at SMU (Southern Methodist University). She received the Meadows Outstanding Artistic Achievement Award and the Epstein B'nai Brith Award. With her husband, cellist Andrew Snow, she is the founder of the Chicago Pan-American Ensemble (http://www.chicagopanamericanensemble.com), a group that engages some of Chicago's finest musicians and performs the traditional repertoire of trios, quartets and quintets with a blend of classical Latin American and American music. She has played as a soloist with the Fine Arts Chamber Orchestra (Orquesta de Cámara de Bellas Artes), State of Mexico Orchestra (Orquesta Sinfónica del Estado de México) and others. Her chamber music concerts include live performances for WFMT Radio in Chicago. She is part of the piano faculty at DePaul University.
Location One is extremely grateful to The NY State Council on the Arts, The New York City Department of Cultural Affairs, and Location One's International Committee for making this event possible.