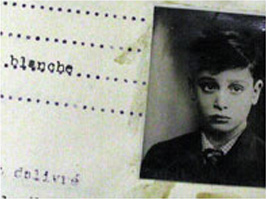 Under Strange Skies
A Documentary by Daniel Blaufuks
Narrated by Bruno Ganz, 57 min, digital, color, 2002.
prod.: LX Filmes, Lisboa

December 3rd, 2003 at 8pm
Free Admission

(New York, NY – November 14, 2003) – On December 3rd, 2003 Location One will present a free public screening of Daniel Blaufuk's documentary Under Strange Skies, the story of his German Jewish family's flight from Nazi Germany to Lisbon.

During the Second World War, Lisbon, like Casablanca, was a corridor for refugees going from Hitler's occupied territories to America. This film tells two parallel stories about exile and accommodation. Through a narrated memoir and photographs, the tale of a German Jewish family that decided to stay in Portugal is recounted. The larger, more sociological account of artists who used Lisbon's escape route is skillfully told as well, using beautifully shot historic footage and written memoirs by some of the era's leading intellectuals, including Heinrich Mann (The Blue Angel) and Alfred Döblin (Berlin Alexanderplatz). This film evokes a desperate, intensely romantic period of exile, despair, and, ultimately, freedom.
-Marc Glassman, Hot Docs, Toronto
"The filmmaker's narration interweaves with the recollections of his grandfather and of such famed Lisbon refugees as Heinrich Mann and Alfred Döblin, highlighting a montage of old photos, home movies, and archival footage of delicate beauty." -Peter Keough, The Boston Phoenix
"haunting, elegiac" -The Jewish Advocate
Under Strange Skies has been shown at Hot Docs Canadian International Documentary Festival, The Boston Jewish Film Festival, Rencontres Internationales du Documentaire de Montreal, DocLisboa and the Goethe Institute, New York.
Daniel Blaufuks
In 1989, Daniel Blaufuks won the national Kodak Award. In 1996, he was among the final eight chosen for the European Photography Award. Daniel Blaufuks has been working on the relation between photography and literature, through works like My Tangier with the writer Paul Bowles. More recently, Collected Short Stories displays several photographic diptychs in a kind of "snapshot prose," a speech based on visual fragments that give indication of private stories on their way to become public. He has been showing widely in Europe and works mainly in photography and video, presenting his work through books, installations and set designs. Recent solo exhibitions include: Calouste Gulbenkian Foundation, Lisbon, Portugal; Palazzo delle Papesse, Siena, Italy; LisboaPhoto, Centro Cultural de Belém, Lisbon, Portugal. Blaufuks' residency at Location One is supported by the Calouste Gulbenkian Foundation and the Luso-American Development Foundation.
For more information see http://www.danielblaufuks.com