January 19, 2002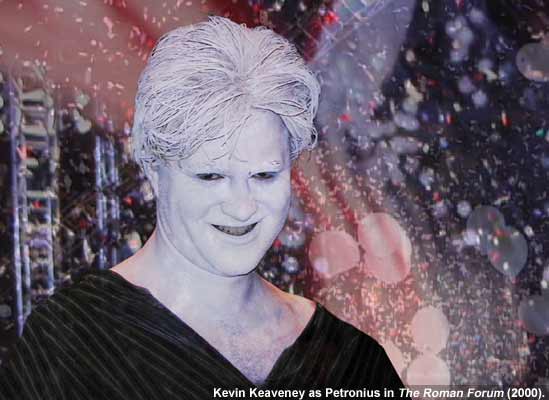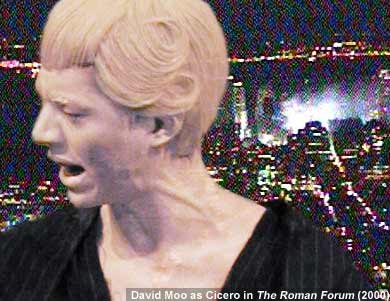 The Internet as Author, Venue, and Performer
Conceived and created by Robert Allen and Antoinette LaFarge
8:00 PM
No Admission Charge
Direction by Robert Allen
Script by Antoinette LaFarge
Visual design by Antoinette LaFarge and Amy Kaczur in collaboration with Jon Winet and "Democracy-The Last Campaign"
Costumes by Nicole Evangelista
Character development & additional text by The Plaintext Players
Performances by Pathogen Arts: Kevin Keaveney and David Moo
Location One is pleased to present "Virtual Live", a special streaming-video preview of The Roman Forum II: the will of the people and an accompanying online discussion of virtual performance.
Streaming Video Performance:
Two brief excerpts from the upcoming Roman Forum II will be streamed live on our website. The Roman Forum II is a neo-Vaudevillean performance work that focuses on the aftermath of the 2000 elections seen through the eyes of five Romans from the time of the emperor Nero. These excerpts feature live footage of an actor performing at Location One mixed in realtime with a preconstructed video environment using green-screen technology. These selections from Roman Forum II have a special relevance in the wake of the World Trade Center disaster as they feature meditations on the nature of our republic, the character of our president, and America's "return to history".
"Our goal is to give people some insight into the political machine that runs our lives," say Robert and Antoinette. "We should not be tempted to marginalize the 2000 election fiasco in the face of the World Trade Center disaster. We are only now dealing with the long-term consequences of the decisions that put Bush into the White House instead of Gore, and as time distances us from the terrorist attacks, our ability to see things in a broader perspective only points more emphatically back to the issues raised in that election."
All of the material in The Roman Forum II (both text and visuals) was developed from Internet resources, including virtual performances by the Plaintext Players (a pioneering Internet performance group directed by Antoinette), as well as chat rooms, bulletin boards, web pages, email and listservs, archives, webcams, etc.
Online forum:
Accompanying the streaming videos will be an online discussion on the nature of virtual performance led by the Plaintext Players using Location One's Java chat client. The livestream/chat section of the site allows a seamless experience of "Virtual Live" by combining streaming video and live text in one window.
The five Roman characters of Roman Forum II — two of whom will be featured in the streaming video performances — were originally developed by The Plaintext Players in a series of online improvisations. In addition, a significant portion of the script for Roman Forum II is based on their online work.
The forum will begin with a brief improvisation by The Plaintext Players in their Roman characters, which will segue smoothly into an open discussion of avatars and online performance in which everyone logged in to the chat area will be welcome to participate.
Live Gallery Performance:
It will also be possible to attend "Virtual Live" in the flesh in our gallery space at 26 Greene Street where the video and forum will be projected live and a terminal will be provided for audience participation.
Note: The Roman Forum II was originally scheduled to premiere on the West Coast in November 2001 but was canceled by the producing venue in the aftermath of the September 11th terrorist attacks. Despite this, work on the project is continuing, with the premiere projected for fall 2002.
Biographies of the Artists
ROBERT ALLEN (director)
moved to the West Coast from New York, where his recent projects include How I Got That Story by Amlin Gray (August 2001, New York City), The Roman Forum (August 2000, Los Angeles), Dear Anton (Chekhov Now Festival, 1999), The Creditors (New York International Fringe Festival, 1999), "August in January," a festival celebrating August Strindberg's 150th birthday (Theater 22, 1999), Le MŽnage (LaMama E.T.C. 1998), Still Lies Quiet Truth (New York International Fringe Festival, 1998), and The Good Night (Theatre for the New City, 1998). In addition to Roman Forum II, upcoming productions include Twilight by Anna Deveare Smith (March 2002, Cal State Long Beach), The Measures Taken by Bertolt Brecht (April 2002, Los Angeles), and Ordnung und Unordnung (June 2002, Hellerau, Germany). Robert has an M.F.A. in Theater from Columbia University, where he studied directing with Anne Bogart. His work as a director is grounded in prior experience as a choreographer and performer in German Tanztheater, working with Reinhild Hoffmann (a contemporary of Pina Bausch) and other German directors. Robert also possesses an M.F.A. in modern dance from UCLA and a B.F.A. in visual art from the San Francisco Art Institute. He currently teaches at California State University, Long Beach, and Cypress College. His resume can be browsed online at http://members.loop.com/~hai.
ANTOINETTE LAFARGE (script/visual design/online direction)
is an artist and writer with a special interest in virtual realities and fictive worlds. She is the director of The Plaintext Players, an Internet performance group that uses net-based virtual worlds to stage their performances. She is also the founder-director of the Museum of Forgery, a virtual institute dedicated to the aesthetics of forgery. She is an associate of the Institute of Cultural Inquiry, Los Angeles, for whom she recently designed the book Benjamin's Blind Spot (2001) and is the author of "Cylex," a short fiction published in Wired 2.05, and a number of articles in Leonardo, Gnosis, and other magazines. In addition to Roman Forum II, upcoming projects include Reading Frankenstein, a multimedia theater work scheduled to premiere in 2003. She is an assistant professor of digital media at the University of California, Irvine, where she co-curated "SHIFT-CTRL: Computers, Games, and Art", the inaugural exhibition of the Beall Center for Art and Technology (2000). She formerly taught at the School of Visual Arts, New York, where she received her M.F.A. in Computer Art. Her domain is www.forger.com.
NICOLE EVANGELISTA (costume designer)
currently freelances in the film and theater arena of New York City. Film and tv work includes: Saturday Night Live, Don't Say a Word, Curse of the Jade Scorpion (dir. Woody Allen) and Third Watch. She has designed costumes for such productions as The Roman Forum (Side Street Live, LA, 2000), The Embraceable Me (Rachel Reiner Productions, NY, 2000), Richard IIFinding Louise (Oberon Theatre Ensemble, NY, 2000), Between Sets (Julliard Dance Division, NY, 2000), and Cherie (The Live Bait, Chicago, 1999), which earned her the Joseph Jefferson Award for Most Outstanding Costume Design of 1999. Nicole studied at the Julliard School and holds a B.F.A. in Costume Design from DePaul University. (The Eleventh Hour, NY, 2000),
AMY KACZUR (visual design/video editing)
is an interdisciplinary artist, currently working in video, film, and digital technologies. Recent works include White FlightDesire Dogs (2001), Effigy for a Good Life (2000), Hypnovator (2000), Snoots and Tales (1999), Nursing/Mother (1999). Recent exhibitions include Athens International Film and Video Festival (Ohio University, Athens); Film and Video Annual (Museum of Fine Arts, Boston); NO-TV & Movies #20 (RCTV, Rochester Community Television, the Media Center @ Visual Studies Workshop, Rochester, NY); Narration: Emblem and Sequence in Contemporary Art (Hilles Gallery, Creative Arts Workshop, New Haven); Centered on the Center (Huntington Beach Art Center, Huntington Beach, CA); Indomitable (The Beall Center for Art and Technology, University of California, Irvine). She received her B.F.A. from Tufts University (1983) and is currently an M.F.A. candidate at the University of California, Irvine (2002). (2001),
KEVIN KEAVENEY (Petronius Arbiter)
has been performing for several years in New York's off-Broadway and downtown scene. the will of the people marks the sixth time he has worked with Robert Allen, previously having appeared in The Roman Forum (Petronius Arbiter, 2000), Strindberg's Creditors (Gustav, 1999), The Secret History of the Lower East Side (1998), and Still Lies Quiet Truth (Baron Samedi, 1998). Kevin can also be seen as Orson Welles in the recent film Orson Welles Sells His Soul to the Devil. Kevin has a degree in theater from Yale University.
DAVID MOO (Marcus Tullius Cicero)
is a founding member of the Todd Theater Troupe and has performed a wide variety of roles, both large and small, in New York, around the country, and abroad. An aspiring director and playwright, he is currently collaborating with Robert Allen on several upcoming projects.
THE PLAINTEXT PLAYERS (character and script development)
are a collective of artists and writers who worked in a test-based virtual world to develop the characters and script of The Roman Forum. Founded in 1994, The Plaintext Players have presented their provocative shows at venues in the United States and Europe, including Literaturhaus München (Munich, 1999), Documenta X (Kassel, 1997), and the Venice Biennale (Italy, 1997). Plaintext Players taking part in The Roman Forum included Marlena Corcoran (Poppaea Sabina), Joe FerrariRichard Foerstl (Marcus Tullius Cicero), Lise Patt (Germania Servius), and Richard Smoley (Petronius Arbiter), together with Antoinette LaFarge as online director. (Quintus Roscius),