Video Installation group show : Carolee Schneemann, Lisa Bateman, Janene Higgins, Luther Price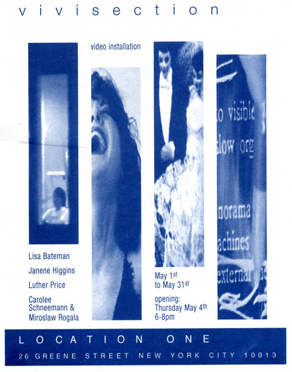 May 1 – May 30, 2000
Lisa Bateman, Janene Higgins, Luther Price, Carolee Schneemann, Miroslaw Rogala
Location One is happy to announce the initiation of our film/video program with "Vivisection", a video installation featuring work by Lisa Bateman, Janene Higgins, Luther Price, Miroslaw Rogala, and Carolee Schneemann.This work will appear in the gallery and will be streamed on our website.
"…suppressive taboos, the body of the artist in dynamic relationship with the social body". This phrase, taken straight out of the biography of Carolee Schneemann, the brilliant multidisciplinary artist, whose collaborative video, made with Miroslaw Rogala, makes its US premiere in this show, is the key to all of these acutely perceptive short videos.
We will also begin our evening programming this month, every Monday through Thursday from 8-10 PM. The same day each week will be curated by a guest curator. Monday nights will belong to Pamela Grace, Tuesday to Mark McElhatten, Wednesday to Seamus Coutts, Thursday (TBA) Admission is $2.50.
Lisa Bateman
is a visual artist living and working in New York. Her current works are installations using painted and colored surfaces, mirrors, optics, found objects and video. She is increasingly interested in the history of particular sites, locations and institutions. She has exhibited in over thirty group exhibitions and six one-person shows in both the US and Europe. Her next projects will incorporate images of "learning" and "training" from the Global Institute of Technology and federal government programs in Manhattan. She teaches studio art and lectures in contemporary art at Pratt Institute in New York.
Janene Higgins
is a graphic designer and video artist living in New York City. Her videos and digital media have been presented in numerous festivals and galleries throughout North America, Europe and Japan. She has just completed her fourth artist residency at The Experimental Television Center in Owego, New York. Her work includes live video mixing in a performance setting, most often in an ongoing duo with electric harpist Zeena Parkins. Their latest piece, Arch, will premiere at Roulette this May.
Luther Price
Luxuriously laminated unforgiving process. Crusty enjeweled with imperfection. Oxygen tank, oxygen tank. Skies of white that turn blue the same day. Praying while fucking on a lollipop, for something to do with tomorrow. Ice cream cake. An eyeball kiss. Chickpeas and macaroni or hamburger stew. Toenails and colostomy bags full of corn and turkey gravy drag you down when your stomach is full of staples. Larger than life we scream, then whisper before we die.
Carolee Schneemann
multidisciplinary artist. Transformed the definition of art, especially discourse on the body, sexuality, and gender. The history of her work is characterized by research into archaic visual traditions, pleasure wrested from suppressive taboos, the body of the artist in dynamic relationship with the social body. Painting, photography, performance art and installation works shown at Los Angeles Museum of Contemporary Art; Whitney Museum of American Art; Museum of Modern Art, NYC; Centre Georges Pompidou, Paris; and most recently in a retrospective at the New Museum of Contemporary Art in New York entitled "Up To And Including Her Limits". Film and video retrospectives Centre Georges Pompidou, Paris; Museum of Modern Art, NY; National Film Theatre, London; Whitney Museum, NY; San Francisco Cinematheque; Anthology Film Archives, NYC. She has taught at many institutions including New York University, California Institute of the Arts, Bard College, the School of the Art Institute of Chicago. Recipient of a 1999 Art Pace International Artist Residency, San Antonio, Texas; Pollock-Krasner Foundation Grant (1997, 1998); 1993 Guggenheim Fellowship; Gottlieb Foundation Grant; National Endowment for the Arts Fellowship. Honorary Doctor of Fine Arts, Maine College of Art, Portland, ME. Lifetime Achievement Award, College Art Association.