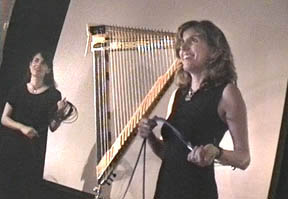 Wake the Dead Spring Music Series
Arch
featuring Janene Higgins and Zeena Parkins
Thursday, May 31 at 8:30PM
also broadcast live on the internet at www.location1.org
Admission: $8
Location One announces the last performance of its Spring Music Series, which will be an evening with Zeena Parkins and Janene Higgins, presenting their latest works, Arch and How I See the World, #1. With electric harp, processors, multiple projections, and cameras, they perform a live music/live video duet. Parkins continues her sonic research on her self-invented electric harp, a hybrid of an acoustic harp and an electric guitar. Higgins utilizes video mixers and cameras in a live performance setting, enabling her to "play" the video as a musician would play an instrument. The performance will be presented in the gallery and be streamed live at www.location1.org.
Arch considers the human body and its penetration into architecture and the urban landscape. The piece premiered at Roulette, New York City, in May 2000 as part of their Festival of Mixology. It since has been taped for Roulette TV, airing in early 2001, and was part of the December music series at Phill Niblock's Experimental Intermedia. How I See the World is the first of a series of more purely improvisational works.
The duo have been collaborating for five years. Their last full-length piece, Artificial Eye, premiered in Kassel, Germany, for Documenta X. Other presentations include Music Unlimited festival in Wels, Austria and at the City of Women festival in Slovenia.
The development of Arch was partially funded by a grant from The Experimental Television Center, which is supported in part by the New York State Council on the Arts.
Zeena Parkins
multi-instrumentalist, improviser, composer, is a leading light in European and North American 'Other Music' circles. A frequent guest of festivals covering the broadest spectrum of musical activity, she is not only one of the pioneers of the electric harp, and extended techniques and digital processing on the acoustic and electric harps, but a composer with a unique vision of how to meld acoustic and electronic processes, in pieces such as Isabelle, Mouth=Maul=Betrayer, Pan-Acousticon and VOU-Valley of Unrest. Zeena has performed and/or recorded with (among others): John Zorn, Ikue Mori, Fred Frith, Elliott Sharp, Jim O'Rourke, Thurston Moore, Lee Renaldo, David Shea and Pauline Oliveros and has toured throughout Europe, Japan in Russia and in the States. Recent collaborations include scores for choreographers Neil Greenberg, Emmanuelle Vo-Dinh, Jennifer Lacey and video artist Janene Higgins. Zeena is a recipient of the prestigious grant for Contemporary Performance Arts, numerous commissioning funds from Mary Flagler Cary Trust, the Jerome Foundation, a Rockefeller Foundation grant, and Nysca Composer Commission. Most recently Zeena performed with Yoko Ono at the Japan Society and has also been working with Bjšrk on her newest record.
Janene Higgins
is a graphic designer and video artist living in New York City. Since 1996, her videos and digital media have been presented in numerous festivals throughout the world, including New York and Chicago's Underground Film Festivals, The Barcelona Festival of Independent Video, Art Institute of Chicago, The Impakt Festival in Holland, New York Lesbian & Gay Film Festival, Experimenta Festival in Buenos Aires, The Hamburg Short Film Festival, and at New York's Irving Plaza. In the realm of live video performance she has worked with such artists as Vernon Reid, Prema Murthy, Wharton Tiers, sculptor Jude Tallichet, and has an ongoing duo with Zeena Parkins. She is a frequent artist-in-residence at The Experimental Television Center in Owego, New York, and was a recent recipient of their Finishing Funds grant. Her latest video, We Hate You Little Boy, was featured in the multimedia exhibits "FACING FEAR" at the San Francisco Art Commission Gallery, and "VIVISECTION" at Location One in NYC.
For more information: http://www.echonyc.com/~myrakoob/performance/arch.html
Interview with Zeena and Janene at the "Noisy.org" website: http://www.noisy.org/mixology.html.