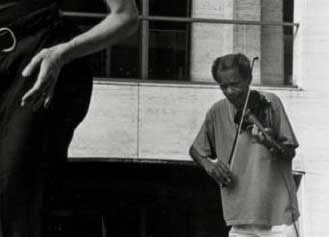 Spring Music Series: Wake the Dead
curated by Ned Rothenberg
Leroy Jenkins and Felicia Norton
May 12 8:30 PM
Admission: $8
Location One, 26 Greene St, NYC 10013
Call for Reservations: (212) 334-3347
Subway: Canal Street Stop- A, C, E, N, R, 6, J, M, Z
Location One announces a Spring Music Series, Wake the Dead. The second of five exciting performances will be a collaboration between Leroy Jenkins and Felicia Norton. Their performance will be presented in the gallery and streamed live on our website: www.location1.org Leroy Jenkins, violinist/composer, is a "master who cuts across all categories" (San Francisco Chronicle). He received a Bessie Award for his opera, The Mother of Three Sons, which was produced by the New York City Opera and Houston Grand Opera. Jenkins, "New York's soulfulest violin improviser" (Village Voice), is a major figure in the development of contemporary music.
Felicia Norton, dance soloist, featured in Philip Traeger's book Dancers, is "an extraordinary dancer" (New York Times) who has performed internationally to critical acclaim. She has been described as "compellingly sensual…a lovely dancer" by the noted London critic, John Percival (Dance & Dancers). She was also deemed "the discovery of the evening" at the Third International Festival of Dance in Brussels. Leroy Jenkins and Felicia Norton have combined their talents to create an innovative fusion of contemporary dance and Jazz violin called "magical" by the New York Times. Since their collaboration on live music/dance programs began in 1988, they have presented specially created solos and commissioned duets with choreography by Molissa Fenley, Mark Dendy, Tamar Rogoff, Alison Chase, Linda Tarnay, Lynn Taylor Corbett and others at a range of venues including the Whitney Museum of Art at Phillip Morris, the Lincoln Center Out-of-Doors Festival, Performance Space 122, the 14th St. Dance Center, the Metropolitan Artists Series at the Met Life Building and Merkin Concert Hall — all in New York City.
They have also been presented by the Pyramid Art Center in Rochester, N.Y., Dance Place in Washington, D.C., Connecticut College, Seven Lakes in Atlanta, GA., the Contemporary Arts Center in New Orleans, LA., Bennington College in VT., The Music Gallery in Toronto, Ontario, The New Arts Program at the Painted Bride Art Center in Philadelphia, PA., the Duke University Institute of the Arts in Durham, N.C., as part of the National Performance Network Touring and Residency Program, and at Jazz Arts '98 at the Carter Barron Ampitheater, Washington, D.C.
The Jenkins/Norton collaboration has been supported by funds form the New York Council on the Arts, Meet the Composer, and has received repeated commissions from the 14th St. Dance Center and Lincoln Center, N.Y.C.