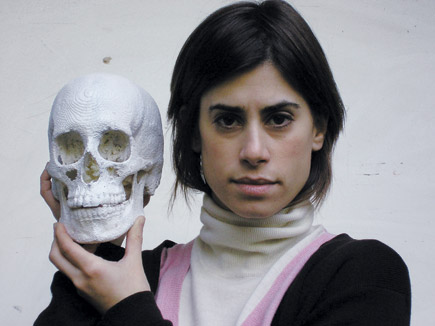 Location One presents XtraCurricular*, a collaboration between Location One and the Columbia University School of the Arts.
Thursday, 24 February 2011 

Jill Magid
Shot from the Capitol Steps (A work in progress)
Co-Curated by Jovana Stokic and Daisy Nam 

7pm FREE and open to the public
While on a research trip, Magid witnessed a mysterious shooting on the steps of the Texas State Capitol by Fausto Cardenas. Nothing is known of Cardenas's motivations, but his gesture of shooting into the sky on the steps of the capitol, where he knew he would be immediately captured, reads symbolically as both tragic and poetic. Magid connects his action to Faust, an obvious but ultimately fruitful and complex avenue of exploration, as Goethe's nineteenth-century drama traffics in similar themes of tragedy, psychology, and futility.
Goethe originally wrote Faust as a 'closet drama': a drama to be read alone or to a small group, rather than performed on stage. For the event at Location One, Magid experiments with the concept of "theatre of the mind" by inviting the audience for an intimate closet drama reading. 
Jill Magid's event at Location One is part of a work-in-progress. The artist takes this program up on its idea of a safe place to try out something new and unfinished, and rough. This will not be a complete drama from beginning to end! Jill Magid seeks intimate relations with impersonal structures. She is intrigued by hidden information, being public as a condition for existence, and intimacy in relation to power and observation. Magid holds a M.F.A from Cornell University, and an M.S in Visual Studies from the Massachusetts Institute of Technology. She has shown nationally and internationally, with solo exhibitions at the Whitney Museum of American Art; Tate Modern, London; Stedelijk Museum Bureau Amsterdam; and Gagosian Gallery, NY. Upcoming exhibitions include the Singapore Biennial, and the Matrix Program at Berkeley Art Museum, CA. Magid is represented by Yvon Lambert, New York and Paris. She lives and works in Brooklyn, NY.
---
Jill Magid received her BFA from Cornell University in Ithaca, New York, in 1995 then her MS in Visual Studies from MIT. She was Artist in Residence at the Rijksakademie van Beeldende Kunsten, Amsterdam, Netherlands from 2001-2002 where she lived for five years, and with Eyebeam, New York, NY from 2006 – 2007. In addition to an upcoming solo show at the Tate Modern, London, she has had shown at the Yvon Lambert galleries in New York and Paris, Gagosian gallery, New York, and The Hague, Netherlands. Her performances and installations have been shown worldwide in numerous group shows and fairs.
Jill Magid's work explores means of penetrating closed systems of power. Taking institutional structures, rules, laws, and language as her media, Magid has developed a conceptually rigorous, largely performance-based practice in which she seeks to engage institutions of power on a personal, intimate level. Developed for the Whitney Museum's first-floor Anne & Joel Ehrenkranz Gallery, Magid's A Reasonable Man in a Box takes its point of departure from the "Bybee Memo," a controversial 2002 document signed by Jay Bybee, Assistant Attorney General of the United States Department of Justice's Office of Legal Counsel, and declassified by President Obama in 2009. The document discusses acceptable methods of "enhanced interrogation" of a high-level Al Qaeda operative, including the use of a confinement box. As Whitney curatorial assistant Nicole Cosgrove writes in the introductory text, "A Reasonable Man in a Box explores the perversion of reason, and the malleability of language and law. Using video, collage, and text, Magid transforms an international and political issue into a physical and intensely personal experience.
The Performance Program at Location OneThe Abramović Studio is a space within Location One dedicated to the ongoing performance series of long-durational works focusing on open-ended forms of workshops, panels and discussions. All programs are curated by Jovana Stokić.
*XtraCurricular Series 
In Spring 2011, five artists and thinkers are invited to curate five nights, using the Location One space for an evening of play and extracurricular events.  
Co-curated by Jovana Stokic and Daisy Nam.
January 27 – Jenny Perlin 

February 24 – Jill Magid 

March 24 – TBA 

April 14 – TBA 
May 26 – TBA