January 20, 2007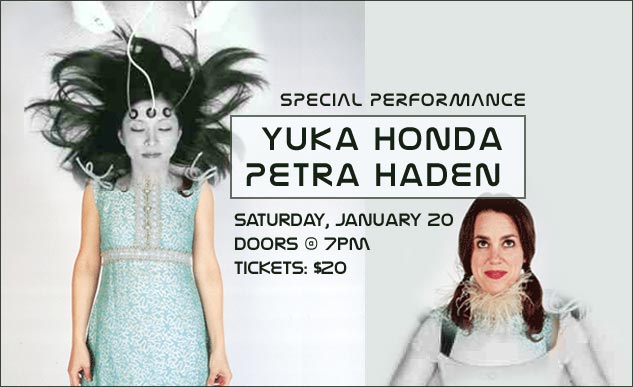 Yuka Honda & Petra Haden Special Performance
Saturday, January 20, 2007
8PM, Tickets $20
The party event will take place from 7-10 PM, the concert begins at 8PM.
Tickets $20, Location One Members free (includes 1 complimentary drink).
(become a member and obviate the need for silly tickets and drink prices).
Location One is thrilled to present our January party event with an exclusive concert by musicians Yuka Honda (former Cibo Matto) and Petra Haden (The Decemberists, Foo Fighters) who will play some new songs from an upcoming duet album on which they have been collaborating, as well as improvisations with Haden's distinctive vocal layering over a soundscape of Yuka Honda's music. Featuring Bill Dobrow (drums); Timo Ellis (bass); Cameron Greider (guitar, vox); Petra Haden (vocal, violin); Yuka Honda (keys)
Please come celebrate with us from 7-10. Cash bar (Location One members receive one complimentary drink) and light refreshments, additional music by DJ Normal, "Sonic" ping pong tournaments.
Artists' Bios
Yuka Honda (from http://en.wikipedia.org/wiki/Yuka_Honda)
Yuka Honda is a multi-instrumentalist and co-founder of the band Cibo Matto. Throughout her career, she has collaborated with a diverse array of musicians, including Petra Haden, Sean Lennon, Medeski Martin & Wood, Luscious Jackson, and Caetano Veloso.
She produced Sean Lennon (also formerly of Cibo Matto)'s 1998 album Into the Sun. More recently she has been collaborating with downtown New York musicians Dave Douglas, Susie Ibarra, Vincent Gallo, Trevor Dunn, and John Zorn on whose Tzadik label her two solo albums were released. In 2003, Honda also collaborated with Boredoms drummer Yoshimi P-We, under the name Yoshimi and Yuka.
In 2006 Yuka played keyboards on Sean Lennon's album Friendly Fire. She is currently supporting Lennon while he is on tour.
Yuka Honda official website: http://www.damoon.net/yuka
Petra Haden (from http://en.wikipedia.org/wiki/Petra_Haden)
Petra Haden is a violinist and singer. She is or has been a member of several bands, including that dog., Tito & Tarantula, The Rentals and The Decemberists; has contributed to recordings by Beck, Mike Watt, Luscious Jackson, Foo Fighters, Green Day, Weezer, Victoria Williams and Yuka Honda. She is the daughter of the jazz bassist Charlie Haden.
In 1999 she released her first album, Imaginaryland, consisting mostly of a capella covers. In 2005 she released the home-recorded album Petra Haden Sings: The Who Sell Out (Bar/None), a complete a cappella rendition of The Who Sell Out. The project was suggested to Haden by longtime friend Mike Watt, who also gave her the eight-channel multi-track cassette recorder she used to make it. Funded in part by a Durfee grant and wanting to perform the work live, Haden created a new arrangement of The Who Sell Out for a ten woman a capella choir called Petra Haden & The Sellouts. The premier live performance of the full work occurred in July 2005 at the Ford Amphitheatre as a part of the "sound." concert series.
She has also released a self-titled collaboration with jazz guitarist Bill Frisell, and a collaboration with accordionist Miss Murgatroid (otherwise known as photographer Alicia J. Rose) entitled Bella Neurox.
Petra Haden official website: http://www.petrahadenmusic.com