Zane Saunders (Australia):
The Australia Council for the Arts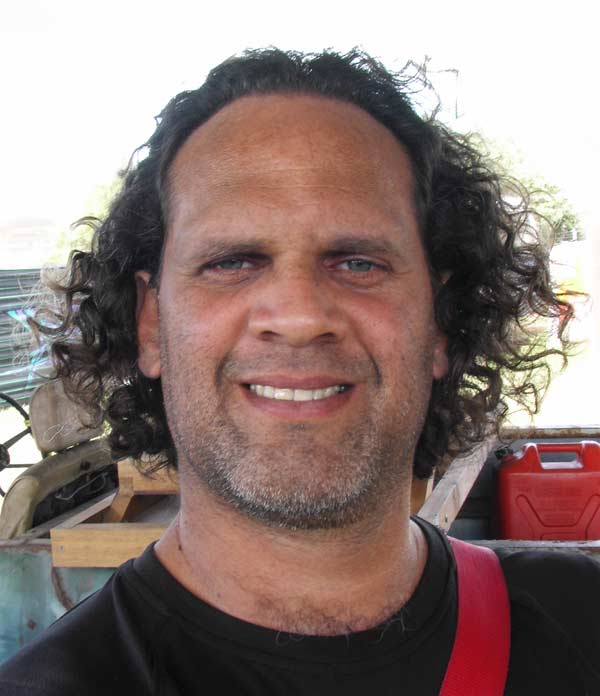 Coming from a very strong visual arts background, Zane continues exploring and investigating new visual expression. While continuing his broad traditional visual arts output, in painting and printmaking, Zane has courageously explored diverse and challenging mediums of installation, sculpture, media and contemporary performance.
This relatively recent performance work has provided a unique medium to take his prolific visual practice 'off the
wall', and into the peoples space. Over the past three years, Zane has developed a very deep and unique approach to contemporary dance/performance, drawing from his indigenous cultural heritage, and from the many experiences of contemporary society.
Importantly, this new work is placed in many diverse settings and contexts, each work site specific, and both visually stunning and challenging, for audiences.
"Performance is a vehicle for the spirit to connect to audience": modern devices/costume are utilized to convey the message; site specific work devised to site location; use of formal and informal spaces, emphasis on the absurdity of contemporary 'western' norms.
Zane also has an ongoing collaboration with sound and media artist File_Error, and this partnership allows Zane to explore video, media and performance in a more defined context. In 2007, the 2 artists collaborated and self produced the installation, performance and media event, "Being A Medium" over 3 nights at the JUTE Theatre in Cairns.
Zane's visual arts work is in many collections, including the National Gallery of Australia, and the National Gallery of Victoria. Recent performance practice is numerous across festivals such as On Edge in Cairns, to exhibition openings and community events such as NAIDOC week in his hometown, Kuranda.
His most recent projects include "Parcel", a discreet installation and performance at Mofo Gallery, and a short performance work as part of Submerge.
Zane will be performing at a number of events as part of the On Edge contemporary media + performance festival in Cairns in July 2009, including his new major performance work, "Blueprint". (www.onedgeart.com)
Recent projects and performances includes:
May 2009 – Mofo Gallery "Parcel" – Installation Works & Performance
July 2008 – On Edge, LAPS Program, Cairns – Performance
Apr 2008 – Yarrabah Community: Performance
Apr 2008 – On The Edge: Group Exhibition – Paintings & Performance – Tanks Art Centre
Sept 2008 – TKRP 'Fire Management' project: Performance, Sydney, Melbourne, Cairns
March 2007 – Being A Medium: Performance and Installation, 3 Nights in collaboration with File_Error – JUTE Theatre, Coca
Aug 2006 – Envirofiesta 'Mother Story': – Performance
Jul 2006 – On Edge: – Live Art in Public Space – Performance – outside Cairns Regional Gallery
Jul 2006 – NAIDOC: – Performance – Kuranda
May 2006 – Danceweek 06: – Performance & Installation – Tanks Art Centre
Apr 2006 – Lone Guinea Fowl: Exhibition: Paintings, Installation, Sculpture & Performance KickArts, Coca