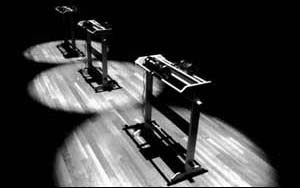 Composer and visual artist, Atsushi Nishijima received his Bachelor's degree in Musical Technology from the Osaka University of Art in 1989 and his Master's degree in Media Art in 2001 from the International Academy of Media Arts and Science in Gifu. Originally from Kyoto and trained in experimental and contemporary music, Nishijima creates sculptures and installations which emphasize the idea that sound, and thereby music, is inherent in all objects and environments. A particularly important resource for the artist is the city, which becomes a gigantic synthesizer from which everyday sounds are selected and transformed them into a unique "sound" due to "space". Laura Trippi , curator of "Citycircus" in 1994 (New Museum of Contemporary Art, New York) included Nishijima's "Mondrian Ping Pong". She connects his work to the aesthetic sensibility of John Cage, who employed chance operations and rule-governed improvisations. Ong Ken Sen, artistic director of Theatre Works in Singapore, considers Nishijima to be an artist of extraordinary talent and inventiveness who addresses the critical relationship between art and science. His works have been exhibited and performed throughout Japan (solo exhibitions in 1992 at the Osaka Contemporary Art Center; in 1998 at the Dohjidai Gallery of Art, Kyoto and Ashiya City Museum of Art & History, Hyogo) , as well as Singapore, Paris and New York (1994, "Citycircus", New Museum of Contemporary Art).
View a video interview of Atsushi Nishijima by Yuzo Sakuramoto.
with excerpt in english.
Subtractive Creation/Visible Sound
A Multimedia Installation by composer and visual artist Atsushi Nishijima
December 8th – 29, 2001