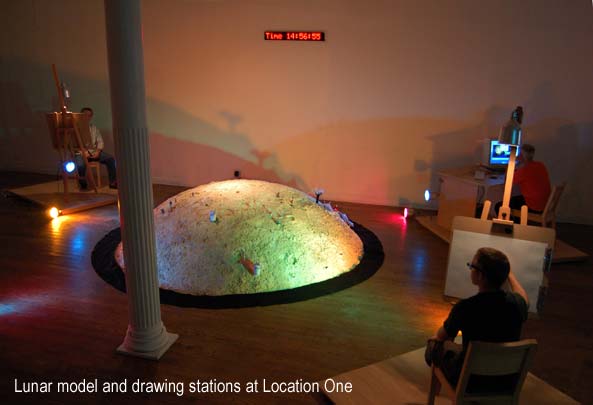 Whose crater is it anyway?CRATER NEW YORK: a Lunar Drawing Contest
September 6–26, 2007Opening Reception: Thursday, September 6th, 6-8Drawing Contest: September 6–22, Rounds begin at 12:30click here to see the artists who participated >>Awards Ceremony: Wednesday, September 26th, 6-9pmJudges: Jimmy Breslin, Roger Anderson, Karen Helmerson, Bob HolmanList of Finalists and WinnersPRESS: Rhizome [link] – pdf download / Art in New York [link] – pdf downloadWATCH THE CEREMONY[display_podcast]HOW TO REGISTERUnfortunately registration is closed. Tune in live to watch the judging ceremonies, or read the live blogging to find out the blow by blow.Sign up by email. Be sure to give your first and second choice time slots and whether you would like to use a DIGITAL or ANALOG drawing station. If you choose to use the computer to make your drawing, you should be proficient in Adobe PhotoShop or Illustrator.Alternatively, you can download the entry form and fax/mail it back to us with your preferred time slots. (download PDF) Make sure you include your contact information so that we may contact you to confirm your slot.
Here is a selection of some of the drawings completed so far…
To kick off the 2007-2008 season Location One presents Crater New York, a participatory project created by the artist duo of Nora Ligorano and Marshall Reese. The project takes on the form of a drawing contest that is free and open to the public, artists and not-artists alike. Contestants fill out an entry form and select either a digital or analog medium to create a rendering of the model installation of the Moon that will be placed at the center of the gallery. On one of two computer stations or two traditional artist easels, contestants will have 30 minutes to complete their drawing, which will then be hung on the walls of Location One's main gallery for the duration of the project. The winner will be chosen by a panel of judges including artists, critics, real estate developers and celebrities. The Jury will be announced once the competition has begun. Three prizes will be awarded on September 26th with each winner receiving a deed for a plot of land on the Moon. Here is a note about it on our blog.At a time when many seek a virtual life in metaverses like Second Life, when property on the moon is available for sale and ownership, Ligorano/Reese have devised a contest to evaluate contemporary artist skills in hand drawing and computer aided design. Using the moon as a drawing model, this project recontextualizes the tradition and practice of the "en plein air" landscape.Proceedings of the drawing challenge and the work created will be shown simultaneously in Second Life, hosted by artist/critic Richard Minsky in his SLART gallery outpost on the island of Artropolis, and will also be live-streamed on Location One's website.Joining mankind's ancient fascination with the small celestial body that circles the Earth, Ligorano/Reese's interactive performance-exhibition invokes questions about imagination, representation, and judgment. It explores the concepts of virtual space and virtual reality, as well as artistic practice, the place of artists in society and in the future of New York. Will artists have to move to the moon to afford working and living space? Will they help redefine outer-borough living? To this end Ligorano/Reese have asked several artists to participate in populating the 8 foot diameter maquette of the moon by creating models of the first lunar artist colonies, using recycled materials in novel ways.The contest is free and open to all visitors of Location One, with prior sign-up and registration. There will be two contest sessions on weekdays, and four sessions on Saturdays. Thirteen contest match-ups, reflecting the 13 annual lunar cycles, and a chance to own a piece of the pie in the sky.LIGORANO/REESENora Ligorano and Marshall Reese have collaborated as Ligorano/Reese since the early 80's. Their work examines contemporary trends in society and the media through the manipulation of images and sound from print, television, the Internet, and radio. Their installations, limited edition multiples and artists books have been exhibited at Jim Kempner Fine Art, Kent Gallery, the Beall Center, the Cleveland Museum of Art, Museum fur Angewandte Kunst (MAK) in Frankfurt, Germany, MIT MediaLab, Museum of Arts & Design, the Neuberger Museum of Art, and Lincoln Center. They have received fellowships and funding from the Jerome Foundation, The Puffin Foundation, NYFA, NYSCA, the NEA, Art Matters and have been artists in residence at the MacDowell Colony and Djerassi Resident Artists Program.
We are grateful to Tekserve and Material for the Arts for their generous contributions to this exhibition: