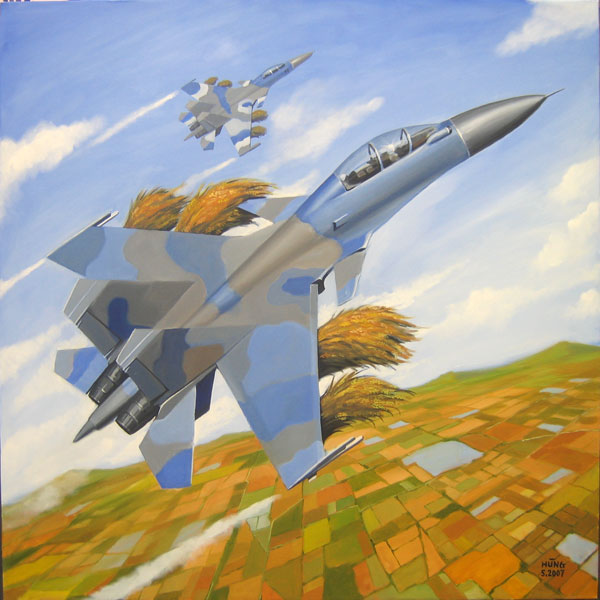 Hung Nguyen Manh is an artist, a self-taught composer and an active participant in the "alternative" art scene in Hanoi. As an artist whose practice is driven by interdisciplinarity, his work investigates current symbology as opposed to a Vietnamese/Oriental aesthetic that reaches into the past for visual vocabulary. Recently Mr. Nguyen collaborated on a piece where he built a life-size bamboo jet, wrapping it in paper, and then burning it as an offering.
Hung Nguyen Manh received a B.F.A. degree from the Hanoi University of Fine Arts in 2002 and that same year was invited to present a solo exhibition of his paintings at the Goethe Institute in Hanoi. He has traveled to performance art festivals in Japan and Taiwan, and received a grant from the Ford Foundation in 2005 to participate in a Los Angeles exhibition of contemporary art from Vietnam. In 2006 a grant from the Dong Son Today Foundation provided support for Mr. Nguyen to participate in a one-month residency program at Art Omi, Ghent, NY.
Mr. Nguyen's residency at Location One is supported by the Asian Cultural Council.
http://hung6776.multiply.com
http://hung6776.blogspot.com
http://www.myspace.com/nguyenmanhhung
Drop the Rice, 2007
Hung Nguyen Manh & Moira Ricci
9th -19th January 2008


Hung Nguyen Manh – special sound performance
January 11th, 2008, 20 Greene street, 7pm