Glen Rumsey Dance Project
September 15-17 & September 22-24, 2005.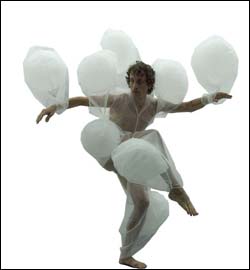 ignored in my heaven… is a new evening-length work inspired by Rumsey's dream and travel journals. Comprised of a suite of dances, the work shifts from literal transpositions of dreams, populated by Fellini-esque creatures clothed in fantastical costumes to candid, kinetically charged renderings of his travelogue. The work includes video projection by Marisela LaGrave/Magnetic Laboratorium. Costumes are by Rumsey in collaboration with costume designer David Quinn.
ignored in my heaven… is performed by the extraordinary Theresa Adams, Arnie Apostol, Steven Ferrara, Jean Freebury, Alexander Gish, Makram Hamdan, Linda Martini, Katherine Nauman, Banu Ogan, Amy Santos, Cheryl Therrien, Ede Thurrell, David Watkins, Lisa Boudreau and its creator Glen Rumsey.
also performed on April 4-5th, 2008.
press articles:
Gay City News
Village Voice
Village Voice "Don't Call it 'Project Runway, the Art Exhibit" by Corina Zappia
Dance Review Times
ignored in my heaven… was reprised in 2008