Themes of overcoming gravitation and the exploration of physical limitations of one's body mark Kuba's diverse body of work. As he investigates the confrontation between the real world and the artificial world generated by digital media, his approach is part utopian, part ironic, and is tinged with a perverse sense of humor. Recent works feature quasi-futurist scenes modeled on original NASA photographs.
Kuba graduated from the Multimedia Communication Faculty, Academy of Fine Arts, Poznan. Recent exhibitions include : 2007, Polish Painting of the 21st Century, Zacheta – National Gallery of Art, Warsaw; 2006, At the Very Centre of Attention. Part 3, Center for Contemporary Art Ujazdowski Castle, Warsaw; and a project in the Wuyishan Mountains, China.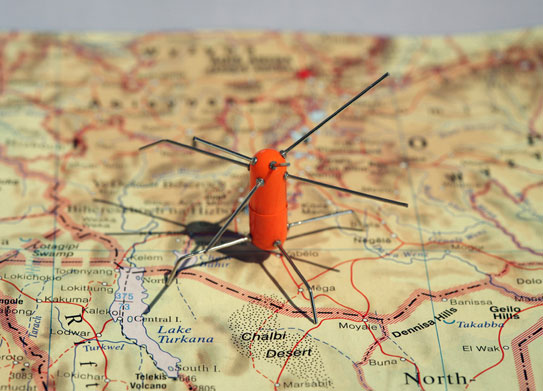 Spaceships, Explorers, Samplers And Other Explorative Devices, 2006 / 2007
pills, antibiotic globules, pins, plexiglas, various materials
Kuba's residency at Location One is supported by the Trust for Mutual Understanding, Ministry of Culture, Poland, and the Polish Cultural Institute, New York.

Katia Kameli & Kuba Bakowski
in Location One's Project Space
December 13-22, 2007